Blowout Valencia Preview, Fast Times in Delhi, Guest Nick Cordes on Thorvaldson-Brown Showdown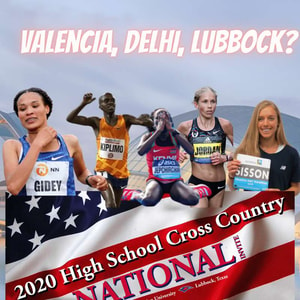 4 months ago
The Valencia Marathon and Half Marathons are here and they are STACKED. Jodan Hasay represents America in the marathon and Emily Sisson is after Molly Huddle's American half-marathon record. Lawrence Cherono, Birhanu Legesse and Lelisa Desisa square off in the marathon as the world records could go in the half with Letesenbet Gidey in her debut, and Rhonex Kipruto, Jacob Kiplimo and and Kibiwott Kandie in the men's race.
Sound Running's The Track Meet is here with King Cheserek in action along with Weini Kelati making her pro debut.
Plus we've got the unofficial high school cross country national championship on the girls' side with Sydney Thorvaldson and Brynn Brown squaring off at the High School Cross Country National Invite in Lubbock. Lubbock Christian coach Nick Cordes (former World Half team member and husband to NCAA champ Leigh Daniel) joins us @ 78:18 to discuss the meet and discuss how it came about.
We preview all that action plus look back at the great half marathon action in New Delhi, Killian Jornet going for ultra running's greatest record and ending up in the hospital and more.
Podcast is sponsored by The Marathon Project Virtual Challenge. Want to race a 5k, and/or 10k, and/or half-marathon, and/or marathon, get a performance half-zip while supporting your favorite pro runners at the same time?
Want to become a LetsRun.com Supporters Club Member and get bonus content (and take advantage of Black Friday pricing?) LRC Supporters Club Members get bonus content, a private forum, enhanced message board features, and huge savings on running shoes. Click here for more info
Also want to save on the new/classic LetsRun.com Shirt? Click here and use code ROJO at checkout.
Show notes:
3:58 Valencia stacked and prize $
9:58 Emily Sisson and Jordan Hasay in Valencia
22:38 Valencia full
26:54 Valencia half- world records could go
35:58 Fast time and $99k in New Delhi
45:06 The Track Meet - King Ches, pro debut of Weini Kelati and immigration status of both
60:19 Jon girlfriend or Rojo sub 20
78:18 Nick Cordes on High School Cross Country National Invite
89:23 Supporters Only content on Sarah Fuller becoming first Power 5 female football player, Title IX
Click for more details on The Marathon Project Virtual Challenge
Rate and review us on Itunes please.
Want to reach us? Email podcast@letsrun.com or call 1-844-LETSRUN and hit option 7 to leave a private voicemail (or you can reach our phones)
Support LetsRun.com's Track Talk by donating to their Tip Jar: https://tips.pinecast.com/jar/letsrun
Find out more at http://podcast.letsrun.com
Send us your feedback online: https://pinecast.com/feedback/letsrun/0a042de8-7df5-4a69-a3d7-63eab77f44cc