Guest Nick Symmonds + April Fools + Backyard & Balcony Marathons Ranked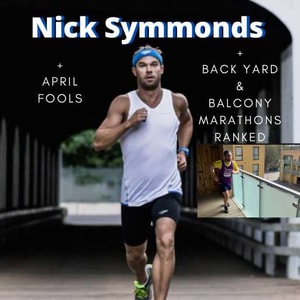 3 months ago
The best running podcast on the planet
Former US 800m star, Youtube personality and RunGum CEO Nick Symmonds joins us to talk his fascinating career, what it's like to be a pro, the highs and lows (depression and suicidal thoughts), and much much more including his date with Paris Hilton.
Before that we get you caught up on the running world, April Fools, plays whose running career would you rather have and we rank the backyard and balcony COVID-19 marathon performances.
Podcast is sponsored by TheFeed.com. They've got everything you need to perform at your best and try and stay healthy. They're sending our team their Immunity boosting packs as well as a fresh supply of Maurten and their new Airofit device. Go to TheFeed.com/Letsrun to see all their products and use code LETSRUN to save 15%.
Show notes
8:19 Oops we fell for Nikki Hiltz's April Fools joke saying she got married.
11:47 Eliud Kipchoge in GQ
16:51 Olympic date set and some aren't happy it was set + USOPC requests bailout money
25:00 Whose career would you rather have? Ajee' Wilson, Shelby Houlihan or Emma Coburn?
36:49 What fall marathon(s) should Galen Rupp and Geoffrey Kamworor run?
44:25 Backyard and balcony marathons ranked
52:54 Rojo goes running and gets some explicit music on his app
57:11 Nick Symmonds big interview
Start - would he rather have Alan Webb's career?
67:23 Nick's biggest appearance fee/ biggest rival
77:21 Greatest moment in career?
85:12 Difficulties of pro running career/ depression / suicidal thoughts
90:43 Nick's post running life - date with Paris Hilton
96:31 Making money - being CEO of RunGum/ Youtube channel
112:57 Can Donavan Brazier break world record? - Can David Rudisha medal again?
Need new shoes? Check out the best shoe revies on the planet.
Support LetsRun.com's Track Talk by donating to their Tip Jar: https://tips.pinecast.com/jar/letsrun
Send us your feedback online: https://pinecast.com/feedback/letsrun/0a550c52-a2a0-458e-857c-40eef6880970