Emergency Podcast: Alberto Salazar is banned, Kenenisa Bekele is back, Donavan Brazier is golden - Worlds halfway point podcast from Doha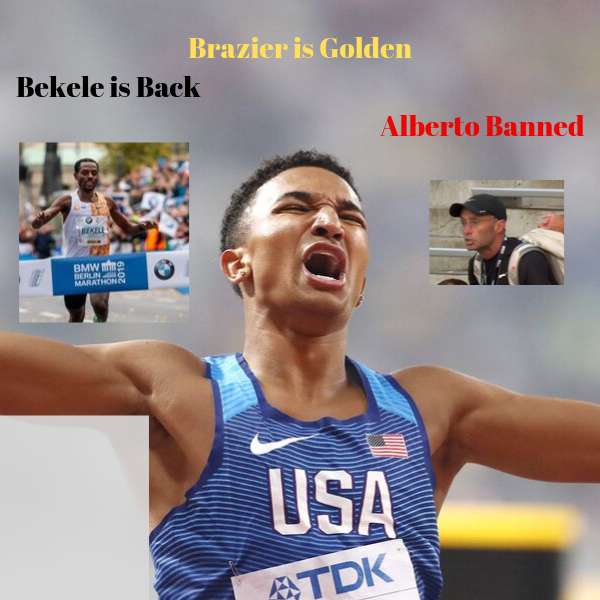 5 months ago
What a week in track and field
What an absolutely crazy week in the track and field world.
Alberto Salazar has been banned from the sport for four years, Kenenisa Bekele has run 2:01:41 in the marathon in Berlin, and Donavan Brazier has won 800 gold and broken Johnny Gray's American record. Plus, Sifan Hassan is chasing history, Ajee Wilson has lost, Christian Coleman is incredible, and what is life like in Qatar?
The LRC crew breaks it down.
100% of the proceeds of the tipjar: https://tips.pinecast.com/jar/letsrun will go to LRC's great Jonathan Gault. One time tips or weekly subscription welcomed.
Show notes:
Intro: What a crazy week, Bekele Runs 2:01:41 in Berlin
8:51 Alberto Salazar gets a 4 year doping ban
30:20 Sifan Hassan's closes a 10k in 3:59
36:28 Donavan Brazier's 1:42:34 American record for gold (bye bye Johnny Gray)
46:25 Christian Coleman impresses on and off track
49:58 Muktar Edris is back, Moh Ahmed medals, Jakob Ingebrigtsen goes for it
55:29 Ajee Wilson settles for bronze, Raevyn Rogers silver
61:44 Emma Coburn gets silver and 3rd straight championship
65:08 2nd half of Worlds: What are we most excited about? (Men's and women's 1500s)
70:20 What's life like in Doha
Become a tip jar subscriber of podcast to show your love for @jgault13.
Support LetsRun.com's Track Talk by donating to their Tip Jar: https://tips.pinecast.com/jar/letsrun
This podcast is powered by Pinecast.