Guest Paul Chelimo + Shelby Houlihan Ruling, 63:43 Half Marathon WR, Ultra records, Booing, Airplane Stories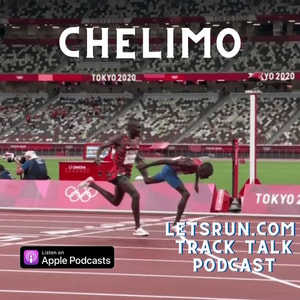 11 months ago
Paul Chelimo joins us at 80:57 to talk about getting the only male American distance medal in Tokyo, performing well in the big races, his racing tactics, and he's got some tough words for Nicholas Kimeli.
Prior to that we get you up to speed on the Shelby Houlihan ruling, break down Yalemzerf Yehualaw becoming the first woman to go sub 64 (63:43) in the half marathon, plus talk a little ultra running, discuss Jenny Simpson moving up in distance, and Molly Seidel's airplane story.
Get Electrolytes without the junk: DrinkLMNT special offer: Get a free sample pack of DrinkLMNT with 6 different flavors for only $5 shipping. Wejo will personally refund your $5 if you don't like this stuff. DrinkLMNT is electrolytes without the junk. No sugar, no artificial flavors, yet it tastes great. DrinkLMNT.com/letsrun
If you're thinking of joining the Supporters Club to get a 2nd podcast every week this is the week to do it. 100% of the proceeds will go to LRC's Jonathan Gault. https://www.letsrun.com/subscribe
Show notes: 6:17 Shelby Houlihan ruling out
38:33 Camille Herron on supershoes
45:11 Jenny Simpson moves to the 10 mile
59:35 Booing at track meets
64:26 HOKA NAZ Elite signs Alex Masai
69:17 Brussels Diamond League preview
80:37 Guest Paul Chelimo
98:32 Chelimo on lack of Kenyan success at 5k
101:28 Chelimo on Edward Cheserek
108:39 Overcoming adversity and people not being positive
114:06 Chelimo on LetsRun saying people going home devastated
117:45 Chelimo on Nicholas Kimeli - he's a sore loser
121:47 Chelimo on the Olympic Trials, Grant Fisher and Woody Kincaid
125:59 Chelimo on nearly coming to blows with Kimeli in 2019
Contact us: Email podcast@letsrun.com or call 1-844-LETSRUN and hit option 7 for the secret podcast voicemail.
Join our Supporters Club and taken your running fandom to the highest level. Get all the LetsRun.com content, a second podcast every week, savings on running shoes, and a lot more. https://www.letsrun.com/subscribe
Check out the LetsRun.com store. https://shop.letsrun.com/ We've got the softest running shirts in the business.
Thanks for listening. Please rate us on itunes and spread the word with a friend. There is a reason we're the #1 podcast dedicated to Olympic level running.
Send us your feedback online: https://pinecast.com/feedback/letsrun/0d932a89-24a9-4fe6-9748-79819db4699d