Track is Back + Guest Jim Walmsley & Sub 4 History for Nick Willis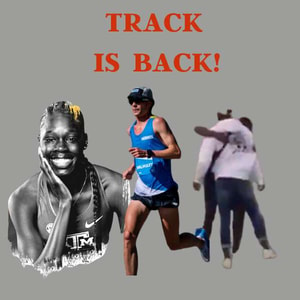 4 months ago
Happy Democracy Day! Jim Walmsley joins us at 90:07 to look back at his 2020, look ahead at his 2021, and his 100k world record chance this weekend at the HOKA Project Carbon X2.
Prior to that, track and field was back in a big way as Athing Mu began her collegiate career in style, Hugues Fabrice Zango broke the triple jump record, HS girls ran 2:02 and 9:47, an Olympic champ gets popped, 16 year-old Erriyon Knighton turned pro, Alexa Efraimson has a new coach, and Nick WIllis made sub 4 minute mile history.
Andrew Bumbalough joined us at 4:24 to discuss his career, retirement, Bowerman, whether Evan Jager should leave Jerry, supershoes, and his work with PWURE, the data-driven nutrition company.
PWURE crafts on-demand pre- and post-run shakes with data from your fitness tracker and an online Q&A to determine which amounts and ratios of carbohydrates, protein and other nutrients are the most efficient to improve your performance and optimize your recovery. 82% of their users have seen performance improvement after one month. All their formulas are sustainable and crafted on-demand in their Lab in Brooklyn, NY. Click here and use code "Nextlevel" to save 20% off your first month from PWURE.com
Links from Jim Walmsley: The Greatest 100km
Show notes:
4:24 Andrew Bumbalough on Retirement, PWURE, Bowerman (Sponsored by PWURE.com)
18:10 What a Weekend led by Athing Mu
27:48 Audio of Week: Blood Testing at Marathon Project
31:58 World Record in Triple Jump
35:17 Efraimson Joins Zombie NOP and Pete Julian
50:18 Nick Willis Sub 4 History
56:55 High School Girls Running Fast
66:16 Joseph Biden is the 46th President of the United States
67:53 Runner Tom Brady
69:52 Brianna Rollins-McNeal charged with doping violation
75:20 16 year-old Erriyon Knighton signs with adidas
80:38 Job prospects for 30 year-old runners/ Mark Wetmore story
90:07 Jim Walmsley Talk
Support LetsRun.com's Track Talk by donating to their Tip Jar: https://tips.pinecast.com/jar/letsrun
Find out more at http://podcast.letsrun.com
Send us your feedback online: https://pinecast.com/feedback/letsrun/1a01fa17-a731-441d-84e0-8c3b9051929e