Olympic Marathon Trials Set, Pro Track is Back, Guest = Foot Locker Champ Josh Methner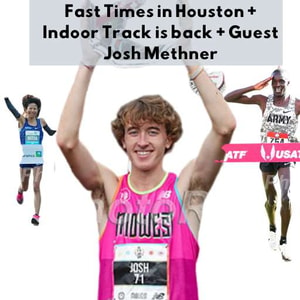 2 years ago
Your weekly rundown of the running world plus highlights of our talk with Josh Methner
2019 Foot Locker High School National Champ (and podcast listener) Josh Methner is our special guest. We've got the 15 minute highlights of our 1 hour talk with him at the end of the podcast and the full talk can be found as a Bonus Episode here.
The Houston half marathon is in the books and the Olympic Marathon Trials window has closed and 2020 indoor pro track and field season is here. We take a look at everything Houston including the fast or deep times by the Americans, the USA XC Champs, the London and Boston Marathon fields and a look ahead to the Dr. Sander Invite and New Balance Indoor Grand Prix. Full show notes below.
Looking for a great race this winter? East coast: Run the Publix Atlanta Marathon, Half, 5k, March 1st - the day after the Olympic Marathon Trials in Atlanta. More details here.
West coast: Can Am Masters XC Race in Victoria, BC Feb 29: Beautiful course. Great city. Hoping to host world XC. More details here
Looking for a better pair of running shoes at a better price? We've got you covered here. https://www.letsrun.com/shoes
Got an audio question / opinion for the podcast? Call 844-LETSRUN (538-7786) and hit option 7.
Show notes: Start: Houston Men: Fast times by Americans: Jared Ward, Sam Chelanga, Nicolas (Who?) Montanez and more.
19:48 Houston Women: The return of Hitomi Niiya, Sara Hall over Molly Huddle, Malindi Elmore Canadian record
33:35 Jake Krolick 2:19:00.14
37:22 Men Trials Standards vs Women's/ LRC Forums in Outside Magazine online
45:45 USA XC Champs: Guess Who Won?
53:45 2020 London and Boston Marathon Fields
58:30 Pro Indoor Track is Back and the Return of Trayvon Bromell
68:12 Alberto Salazar Segment
70:15 Josh Methner highlights
Support LetsRun.com's Track Talk by contributing to their Tip Jar: https://tips.pinecast.com/jar/letsrun
Let us know what you think about us doing highlights of interviews in the episode like this. https://pinecast.com/feedback/letsrun/1a6cfcf0-7449-49a6-ad7b-020e9eba510b