Kipchoge 2:01:09 GOAT, Tuohy and Young NCAA Favorites? World Marathon Majors Slash Prize Money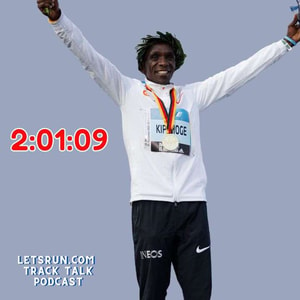 2 months ago
Eliud Kipchoge smashed his World Record to show he's the GOAT (even though some think he's over 40-years-old). Unheralded Tigist Assefa made American record holder Keira D'Amato an afterthought in Berlin. The NCAA action heated up at the Cowboy Jamboree. Are Katley Tuohy and Nico Young the NCAA favorites?
As we were recording the World Marathon Majors slashed some of their elite prize money drastically. We end with Supporters Club only audio of Rojo with a hot take on sports radio in Dallas.
Join our Supporters Club and take your running fandom to the highest level. Get all the LetsRun.com content, a second podcast every week, savings on running shoes, and a lot more. https://www.letsrun.com/subscribe?from=public
Order of show. Want timestamps? Join the Supporters Club
Thoughts on Kipchoge 48 hours later
Audio- Insiders Saying Kipchoge Wasn't Going to Win Olympics or Break World Records
Could any American have run with Kipchoge for halfway?
Is the party over for the American women in the marathon?
How long will Kipchoge's record last?
Former 800 runner Tigist Assefa Blasts 2:15 in Berlin
Road News /30k XC / Kipchoge's wife fasting for his success
55:22 Cowboy Jamboree NCAA XC Action - NAU and Nico Young Upset
Are Katelyn Tuohy and Nico Young the individual favorites?
Jerry Schumacher has a party for Oregon fans at Hayward Field
World Marathon Majors Slash Prize Money for Series Winners
SC only - Rojo's clip on sports radio talking about Cooper Rush replacing Dak Prescott
Contact us: Email podcast@letsrun.com or call 1-844-LETSRUN for the podcast voicemail.
Check out the LetsRun.com store. https://shop.letsrun.com/ We've got the softest running shirts in the business.
Thanks for listening. Please rate us on itunes and spread the word with a friend. There is a reason we're the #1 podcast dedicated to Olympic level running.
Send us your feedback online: https://pinecast.com/feedback/letsrun/1d636993-8145-46b3-91a7-41c1d3f6dff6