2022 Year in Review and LetsRun.com Awards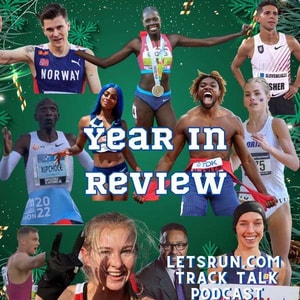 3 months ago
2022 is almost in the books. Fans returned to meets, Eugene hosted Worlds, Allyson Felix retired but Syd the Kid and Athing Mu took up the slack, and women's marathoning went to another level. We had some great and crazy races and controversies, and the LetsRun crew is here to recap it all.
Start 2023 right with the TheRunnerBox.com. (Photo here). You get over $50 of hand picked running goods delivered to your door every other month for as little as $29. Use code LETSRUN22 or this special link to save $10.
Get your LetsRun long-sleeve today. Super-soft and luxurious. Now available in the store or free with a LetsRun.com Supporters Club membership.
Show notes below.
2:35 Sex of Wejo's baby #2 revealed on the air
10:15 Why no New Year's bash at Armory or New Balance track?
12:28 Doping Bust of the Year
21:41 Race of Year
34:48 Biggest choke/ disappointment of 2022
43:44 Distance runner of the year
52:03 US distance runner of the year
59:39 Greatest US distance disappointments
66:19 WTF / Craziest thing to happen his year
76:00 Breakout athlete of year / More Craziness / Devon Allen DQ
82:22 Our advice to World Athletics
87:20 US distance race of year / some love for Athing Mu
90:32 Breakout athlete of the year
97:01 What will we remember 10 years from now?
108:12 Jon's coolest moment of year
Links: Runner's Diarrhea thread
Contact us: Email podcast@letsrun.com or call/text 1-844-LETSRUN podcast voicemail/text line.
Want a 2nd podcast every week? And savings on running shoes? Join our Supporters Club today and get all the LetsRun.com content, a second podcast every week (the Friday 15 - which is usually much more than 15 minutes), savings on running shoes, and a lot more. Cancel at anytime. https://www.letsrun.com/subscribe?from=public
Check out the LetsRun.com store. https://shop.letsrun.com/ We've got the softest running shirts in the business.
Thanks for listening. Please rate us on itunes and spread the word with a friend. There is a reason we're the #1 podcast dedicated to Olympic level running.
Find out more at http://podcast.letsrun.com
Send us your feedback online: https://pinecast.com/feedback/letsrun/20bf2a12-561e-4ab3-872c-9eacc549aa8d
This podcast is powered by Pinecast.