2020 Running Year in Review + Rafer Johnson Tribute From Meb Keflezighi, Bob Larsen and Angel Martinez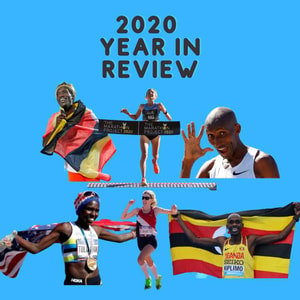 3 months ago
A crazy year of track and field is in the books
Goodbye 2020 and hello 2021. The LRC crew looks back at the track and field and running world in 2020 and ends the year with an audio tribute at 73:47 to Rafer Johnson from Angel Martinez, Meb Keflezighi, and Bob Larsen. Rafer Johnson LA Times obituary
If you're interested in donating to causes Rafer Johnson supports:
The Special Olympics Southern California Rafer Johnson Tribute Fund c/o 1600 Forbes Way #200 Long Beach, Ca 90810 www.sosc.org/rafer or by phone to Victoria Tracey at (562) 502-1115
The UCLA Athletics Rafer Johnson Endowment Fund c/o UCLA Athletic Development Office - P.O. Box 24044 Los Angeles, CA 90024 - (310) 206-3302 Checks payable to "UCLA Foundation" with a reference to the memory of Rafer Johnson
The Play Equity Foundation's Rafer Johnson Impact Fund dedicated to providing support to organizations serving adaptive athletes and those with intellectual disabilities. Donations can be made via: https://playequityfund.org/donate-raferjohnson/
Show notes. LRC Supporters Club Members get exclusive content, special discounts, timestamps below and right now a free tshirt. Join the LRC Supporters Club for only $75. Click here for more info.
xx:xx Supporters Club only audio on why Jon should have been suspended
xx:xx Breaking news: A pro who can run 2:07 pace for the marathon may run for LetsRun.com / 2021 Wishes
xx:xx 2020 Year in Review Quiz
xx:xx Martin Hehir vs Frank Shorter
xx:xx Articles of Year
xx:xx Jakob Ingebrigtsen a no talent hack
xx:xx Ryan Hill leave Bowerman Track Club
xx:xx Brenda Martinez cleared
xx:xx Runners of Year
xx:xx Did LRC snub Aliphine Tuliamuk?
73:47 Rafer Johnson Tribute. LA Times Obituary here
Just want a LetsRun.com shirt? Click here
Support LetsRun.com's Track Talk by donating to their Tip Jar: https://tips.pinecast.com/jar/letsrun
Find out more at http://podcast.letsrun.com
Send us your feedback online: https://pinecast.com/feedback/letsrun/2a62eafa-248c-4e20-98d4-e0bd4155592d