Katelyn Tuohy High School Legend, Now What? + Alberto Salazar Protest Podcast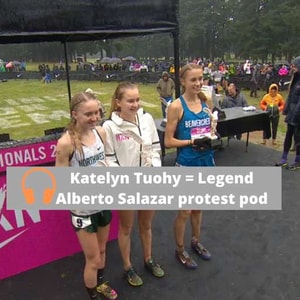 10 months ago
Plus an update on the Olympic Marathon Trials
Looking for the perfect Christmas gift? Podcast is brought to you by NormaTec recovery. Recover like the pros and save $100 + get free shipping on a NormaTec Pulse 2.0 recovery system.
NXN, the first of 2 high school national champs, is in the books. Katelyn Tuohy became the first three time female national champ in cross country, Nico Young impressed on the boys' side, and how much celebration is acceptable by a high school coach? Rojo is given a retroactive Olympic Marathon Trials qualifier, protesters descend on the Alberto Salazar building at Nike, and when if ever should a building be named after another human being?
Plus fast times in Honolulu and Abu Dhabi, a transgender Olympic marathon trials qualifier, and Gwen Jorgensen and Vin Lananna are back. We cover it all.
Show notes:
Start:NXN Girls Race
15:45 Will Katelyn Tuohy win an NCAA title?
21:35 Nico Young, Boys' Race, and How Much Can Coaches' Celebrate?
27:40 Rojo retroactively awarded an Olympic Marathon Trials Qualifier
29:24 100 Olympic Trials Qualifiers at CIM / Are the Trails standards too soft?
36:07 Course rabbit in Honolulu + NCAA champs King Ches and Sharon Lokedi get engaged + Rabbit wins $100,000 in Abu Dhabi
46:06 Alberto Salazar segment of week /protests at Nike
55:42 Transgender women qualifiers for Olympic Marathon Trials
65:45 Vin Lananna back as USATF President
71:51 Race of decade
79:42 Gwen Jorgensen is back on the track
To be on the podcast call 844-LETSRUN (538-7786).
Leave us feedback here https://www.letsrun.com/podcast/
Need a new pair of shoes here? Find the best shoes and prices here.
Support LetsRun.com's Track Talk by donating to their Tip Jar: https://tips.pinecast.com/jar/letsrun