Is Jakob Improving? Rabat, LA, Lex Young HS Record, and LOADED 5k in Florence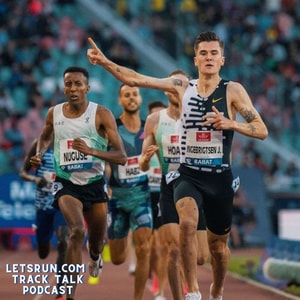 6 months ago
It was a jam-packed weekend with the LA Grand Prix on Friday and Saturday, the Rabat Diamond League on Sunday, and NCAA Regional.
Jakob Ingebrigtsen is still king of the 1500, but is he still improving? Abdihamid Nur got a big win but will he even make the US team this year? Lex Young broke the high school 5000m record, but he's not the fastest 18-year-old training in America.
If you want more Hobbs Kessler and Rabat talk you need to be a LetsRun Supporters Club Member. Get a 2nd podcast every week, including a live Diamond League recap show this week. Plus save on running shoes. https://www.letsrun.com/subscribe
Summer is here and that mean's it's time to try Drink LMNT, the electrolyte drink of LetsRun.com. No questions asked money back guarantee! https://www.letsrun.com/drink
Contact us: Email podcast@letsrun.com or call/text 1-844-LETSRUN podcast voicemail/text line.
Want a 2nd podcast every week? And savings on running shoes? Join our Supporters Club today and get all the LetsRun.com content, a second podcast every week, savings on running shoes, and a lot more. Cancel at anytime. https://www.letsrun.com/subscribe
Check out the LetsRun.com store. https://shop.letsrun.com/ We've got the softest running shirts in the business.
Thanks for listening. Please rate us on itunes and spread the word with a friend. There is a reason we're the #1 podcast dedicated to Olympic level running.
Find out more at http://podcast.letsrun.com
Send us your feedback online: https://pinecast.com/feedback/letsrun/3a68833c-4753-4829-89eb-8350662cf347
This podcast is powered by Pinecast.