Pre: 10.54!!!, Sha'Carri DFL, Frerichs Sub 9, Athing Mu GOAT?, Sydney's Cry for RESPECT + Guest Adrian Macdonald (Leadville 100 Champ)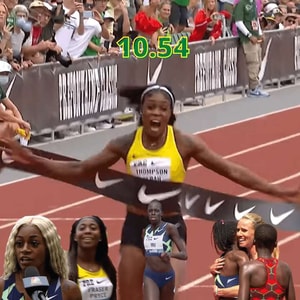 11 months ago
An incredible Prefontaine Classic is in the books and we try and recap it all. From the sensational 10.54 on the track by Elaine Thompson-Herah, to the DFL and bravado by Sha'Carri Richardson, to Courtney Frerich's becoming the first American to smash the 9 minute barrier, the disappearing act of Matthew Centrowitz.
Sydney McLaughlin wants some RESPECT and Athing Mu was so damn good, we almost forgot about her in the podcast, but at 88:35 discussed whether she had the best season ever by an American female distance runner at the tender age of 19.
We end with an interview of LetsRun.com Supporters Club member Adrian Macdonald @ 96:19 who won the Leadville 100 in his first 100 mile race ever. Be like Adrian, be like Des, and join the Supporters Club and get all the insider info from LetsRun.com (and savings on running shoes). https://www.letsrun.com/subscribe Show notes below.
(Sponsor) The AIRWAAV Performance Mouthpiece is a relatively new training tool that launched late in 2020 after nearly 16 years of research. The AIRWAAV performance mouthpiece fits along your bottom teeth and pushes your jaw just forward enough to create the "optimal airway opening," resulting in:
Increased endurance — by reducing respiratory rate by 20%, resulting in less lactic acid production
Increased strength — by improving muscular endurance
Faster recovery times — by reducing cortisol build-up by up to 50%
Click here https://airwaav.com/LR10 and use code LR10 to save 10%.
Show notes:
Show notes: 5:22 Elaine Thompson-Herah 10.54
10:26 Sha'Carri Richardson DFL
20:37 Sydney McLaughlin's cry for respect vs how Sha'Carri deals with social media
31:46 Courtney Frerichs Sub 9 steeplechase
43:08 Men's 2 Mile: Cheptegei over Barega in battle of Olympic champs
47:50 Bowerman Mile: Ingebrigtsen sizzles, Centro and Timothy Cheruiyot fizzle
54:06 Noah Lyles, men's 100
57:18 Track Town a myth? Less than 10,000 people for Pre
67:59 Cape Town a World Marathon Major?
85:16 Jenny Simpson big announcement
88:35 Athing Mu 1:55.04 American record to cap the greatest season ever by an American distance runner?!
96:19 Adrian Macdonald winner of the Leadville 100 in his first 100 miler
Week That Was: Our written recap of the week in running
Send us your feedback online: https://pinecast.com/feedback/letsrun/47d32df6-d54d-47f7-aec8-aceafddfe930