Millrose Games Delivered, Athing Mu Drops Out, Alberto Salazar Banned for Alleged Sexual Assault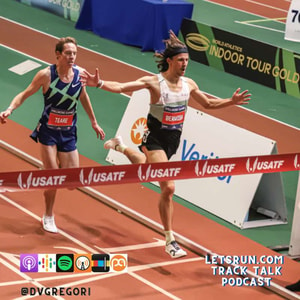 4 months ago
The 2022 Millrose Games delivered on the promise. Cole Hocker and Cooper Teare got beat by Geordie Beamish as the OAC had a tremendous day.
Athing Mu dropped out of a mile she had no business thinking she might win.
We break it all down and then discuss the shocking and dark news that SafeSport banned Alberto Salazar because they ruled he committed a sexual assault.
(Sponsor) DrinkLMNT Free Sample Pack Get electrolytes without the junk - No sugar, no artificial flavors. Go to DrinkLMNT.com/letsrun and for $5 shipping get a free Drink LMNT sample pack of 6 flavors. If you don't like it Wejo (wejo@letsrun.com) will refund your money. Hydrate smarter in 2022.
Contact us: Email podcast@letsrun.com or call 1-844-LETSRUN and hit option 7 for the secret podcast voicemail.
Join our Supporters Club and take your running fandom to the highest level. Get all the LetsRun.com content, a second podcast every week, savings on running shoes, and a lot more. https://www.letsrun.com/subscribe
Check out the LetsRun.com store. https://shop.letsrun.com/ We've got the softest running shirts in the business.
Thanks for listening. Please rate us on itunes and spread the word with a friend. There is a reason we're the #1 podcast dedicated to Olympic level running.
Find out more at http://podcast.letsrun.com
Send us your feedback online: https://pinecast.com/feedback/letsrun/4bd5f98e-6677-458f-a851-199f0952e512