Christian Coleman Cleared, Donavan Brazier Makes History, Drew Hunter Out, Bekele (And Rojo) Are Back, Brussels Diamond League Final Preview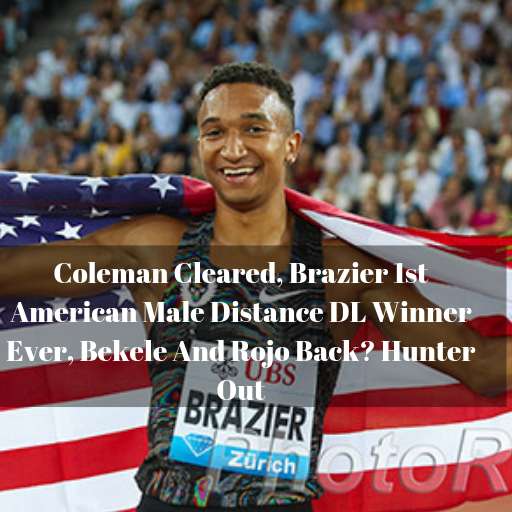 5 months ago
Your track and field and running news fix
Christian Coleman is cleared to compete by USADA, Rojo is back from vacation and that means our Alberto Salazar segment is back, plus NOP, Bowerman Track, and Jerry Schumacher talk. Kenenise Bekele is in the Berlin Marathon and the BofA Chicago Marathon men's field with Galen Rupp and Mo Farah is the stacked race of the fall. Drew Hunter is out of Worlds. We discuss "JV" pro teams and JV "pros". Eliud Kipchoge INEOS 1:59 talk and of course transgender NCAA D1 cross country talk with June Eastwood. We break down the Brussels Diamond League final, Sifan Hassan vs Hellen Obiri, Michael Norman and Fred Kerley. Full show notes below.
Are you using CBD for recovery? If you want to try certified CBD products go to https://floydsofleadville.com and use code LETSRUN to save 15%.
Need new running shoes or have a great pair you want to review? Go to http://www.letsrun.com/shoes/ to find a better pair of shoes or save on your favorite shoes.
Show notes:
4:29 Alberto Salazar NOP/Jerry Schumacher Bowerman Talk
12:48 Drew Hunter out of Worlds
16:35 Race of Week: Donavan Brazier 1st American Man to Win DL Distance Title
25:09 Christian Coleman cleared to compete
36:14 BofA Chicago Marathon, Kenensia Bekele Berling Marathon and Eliud Kipchoge INEOS 1:59 Talk
50:08 Jon's beard
54:19 Brussels Diamond League Final Preview: Hassan vs Obiri, Norman vs Kerley, Ajee Wilson and Americans in 800
66:36 Transgender NCAA XC Talk
82:26 Ultra marathon talk: Killian Jornet runs Pike's Peak instead of UTMB, Courtney Dauwalter wins UTMB and Jornet going up Mt. Everest again
To be on the podcast call 844-LETSRUN (538-7786).
Leave us feedback here https://www.letsrun.com/podcast/
Support LetsRun.com's Track Talk by donating to their Tip Jar: https://tips.pinecast.com/jar/letsrun