Weekend Preview- Loaded Rabat Diamond League and LA Grand Prix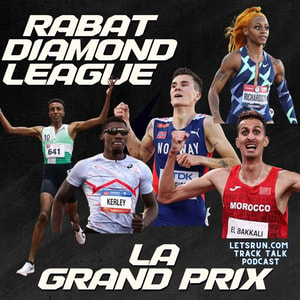 6 months ago
We're making the Friday 15 available to everyone in advance of this weekend's loaded Diamond League Rabat meet and Saturday's USATF LA Grand Prix with Sha'Carri Richardson and a loaded men's 1500m.
Full show notes below.
Want the Rabat Diamond League recap podcast? Join the Supporters Club today. https://www.letsrun.com/subscribe
Summer is here and that mean's it's time to try Drink LMNT, the electrolyte drink of LetsRun.com. No questions asked money back guarantee! https://www.letsrun.com/drink
Show notes:
00:00 Want a 2nd podcast every week? Join the Supporters Club
03:03 Nuguse vs Jakob in Rabat
17:06 LA 1500 - Cheruiyots vs Coopeter Teare vs Hobbs Kessler vs Matthew Centrowitz
19:24 Panic time for Cole Hocker?
22:21 Marcell Jacobs pulls out of Rabat and gets crucified online
30:07 Who wins 100?
30:53 Rest of LA and Rabat
33:32 Men's 800 Loaded in Rabat
34:39 Lex Young going for high school 5000m record
Contact us: Email podcast@letsrun.com or call/text 1-844-LETSRUN podcast voicemail/text line.
Want a 2nd podcast every week? And savings on running shoes? Join our Supporters Club today and get all the LetsRun.com content, a second podcast every week (the Friday 15 - which is usually much more than 15 minutes), savings on running shoes, and a lot more. Cancel at anytime. https://www.letsrun.com/subscribe
Check out the LetsRun.com store. https://shop.letsrun.com/ We've got the softest running shirts in the business.
Thanks for listening. Please rate us on itunes and spread the word with a friend. There is a reason we're the #1 podcast dedicated to Olympic level running.
Find out more at http://podcast.letsrun.com
Send us your feedback online: https://pinecast.com/feedback/letsrun/612b3ac2-8334-4814-8eea-fbec38dbcaaa
This podcast is powered by Pinecast.