Conference Craziness, Nairobi & Sha'Carri, Olympic tennis champ Monica Puig (guest)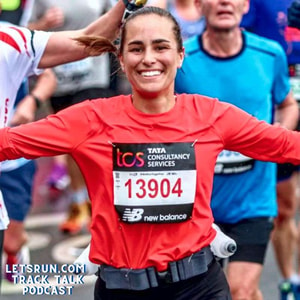 6 months ago
Love this podcast and want even more insider running information, savings on running shoes, and to support independent journalism? Join our Supporters Club today and get a 2nd podcast, exclusive content, a private forum, a free shirt, savings on running shoes, and a lot more. Cancel any time. Money-back guarantee. https://www.letsrun.com/subscribe
Sha'Carri Richardson turned heads in Doha and so did 18-year-old Reynaold Cheruiyot. We break down Doha and turn to the crazy conference action with impressive performances by Britton Wilson, Jaydon Hibbert, Parker Valby, and Colin Sahlman.
Where is Athing Mu?
Monica Puig, the total "Dreams Become Reality" 2016 Olympic tennis champion joins us at 99:29 to talk about her new love of running, her marathon training, and of course her win at the 2016 Olympics.
Show notes:
02:17 Rojo unboxing
08:51 Kip Keino classic
10:41 Sha'Carri Richardson continues to impress
17:01 Sha'Carri #1 in World?
22:54 18-year-old Reynold Cheruiyot the next 1500m star?
25:17 Two weeks USATF LA Grand Prix- Tim Cheruiyot vs Reynold Cheruiyot vs Cole Hawker vs Cooper Teare
31:40 Conference Craziness
31:51 ACC DQ controversy
41:22 Katelyn Tuohy 10k debut
46:16 SEC meet - Britton Wilson unbelievable, World 4x1, 4x4 Leads, 18-Year Old Jaydon Hibbert
52:54 Britton Wilson best shot at Worlds - 400 or 400 hurdles?
58:21 Parker Valby impresses
01:08:41 Washington ends Oregon's 15 year win streak at Pac 12s as Joe Waskom triples and scores 0 points
01:16:48 Does Jerry get a pass at Oregon in year #1?
01:24:37 Colin Sahlman beats Nico Young
01:27:52 LA Grand Prix in 2 weeks is loaded
01:31:42 Where is Athing Mu?
99:29 Guest Monica Puig
01:39:29 Dreams Become Reality: 2016 Olympic chamipon in tennis (and now marathon runner) Monica Puig
01:45:12 Running Boston
01:50:45 Why did she start running?
01:56:08 Her Training
02:06:07 Does she still play tennis?
02:07:36 Meeting Kipchoge
02:13:39 Tennis Talk - her unbelievable Olympic gold
02:24:32 Ideas to make track more popular
02:27:26 How sponsorships work in tennis
Contact us: Email podcast@letsrun.com or call/text 1-844-LETSRUN podcast voicemail/text line.
Or email Wejo wejo@letsrun.com, Rojo robert@letsrun.com or Jonathan jonathangault@letsrun.com.
Check out the LetsRun.com store. https://shop.letsrun.com/ We've got the softest running shirts in the business.
Thanks for listening. Please rate us on itunes and spread the word with a friend. There is a reason we're the #1 podcast dedicated to Olympic level running.
Find out more at http://podcast.letsrun.com
Send us your feedback online: https://pinecast.com/feedback/letsrun/670f3c08-b93e-4086-9700-5db26dc921c0
This podcast is powered by Pinecast.