The Jim Ryun: Greatest American Distance Runner of All-Time GOAT Podcast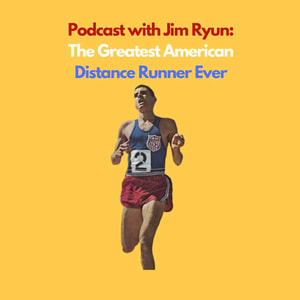 3 years ago
This week we devote the entire show to talking to Jim Ryun - the athlete that the LetsRun.com visitors recently voted as the Greatest American Distance Runner of All-Time. During our talk, Ryun talks about his entire career, during which he ran sub-4 and made the Olympics in high school before being named Sports Illustrated Sportsman of the Year during his freshman year of college as he broke the mile WR and met his future wife on the same day. Along the way we of course talk about the 1968 and 1972 Olympics. In 1968, Jim snagged the silver and we point out that if you convert his time for altitude, he ran the equivalent of 3:29 for 1500 in the process according to the NCAA. We also talk about current track and field stars and Jim talks about the relationship he's had with Alan Webb and Matthew Centrowitz. Details appear in the show notes below.
The podcast is sponsored by TheFeed.com. They've got everything you need to perform at your best and try and stay healthy. LetsRun.com co-founder Weldon Johnson just got his goody back and is pumped. They have a new product - BLDG Active's Anti-microbial Face and Hand Spray which is a medical-grade solution you can take with you to spray on your hands and face. Go to TheFeed.com/Letsrun for more info and use code LETSRUN to save 15% off your entire order.
Also, why don't you check out Jim Ryun's running camp? Normally it's for high schoolers but this year it's going online and will be virtual so there is no age limit. Check it out at RyunRunning.com.
Show Notes:
Start: Intro and then Jim reacts to being named the Greatest American Distance Runner of All-Time by LetsRun.com and talks about making the Olympics at age 17.
4:58 Jim talks about how he found running after being cut from the church baseball team and how he ran 100-mile weeks in HS.
9:15 We talk about Jim's 3:51.1 mile WR and wonder what it would have been on a modern synthetic track. Jim says it felt like one of the "easiest races of his life."
11:57 The talk turns to Ryun's training under Bob Timmons which included 4 workouts per week
15:20 The talk turns to running sub-4 miles in HS and Ryun talks about how after just his 4th HS race coach Timmons told him he thought he could be first US HS to break 4:00.
23:40 Jim talks about the one time he lost a high school track race
26:23 Jim talks about how he almost went to Oregon State.
31:25 Jim talks about how when he was in college freshman weren't allowed to compete in the NCAA but he still managed to be named Sports Illustrated Sportsman of the Year that year and how on the same day he set the WR in the mile, he met his future wife, only he didn't know it at the time.
34:43  Jim talks about the 1968 Olympics in Mexico City. He calls the decision to hold it at altitude was a mistake but says his silver medal run was one of his best runs ever. We point out that according to the NCAA he ran the equivalent of a 3:29 1500.
45:13   More 1968 talk as we ask Jim about how much his training was limited by Mono that year.
50:08 Jim talks about how he wanted to redshirt in 1969 but coach Timmons didn't let him.
56:17 Jim talks about the 1972 Olympics - a race Seb Coe thinks he would have won had he not been tripped
64:35   Does Jim still watch track and field these days? Who is his favorite athlete? Jim talks about his interactions with both Alan Webb and Matthew Centrowitz.
Support LetsRun.com's Track Talk by contributing to their tip jar: https://tips.pinecast.com/jar/letsrun
Find out more at http://podcast.letsrun.com
Send us your feedback online: https://pinecast.com/feedback/letsrun/6d2dbceb-e37f-48bf-af81-a9827f1234fe