HOKA NAZ Elite men break up, how fast will women go in 2022?, 2024 Olympians + should high schoolers be running 100 miles per week?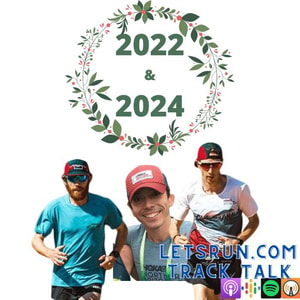 11 months ago
The HOKA NAZ Elite men have broken up, we have an explanation on how Geoffery Kamworor only ran 2:05 in the marathon, covid wreaks some havoc on New Year's running plans and we look ahead to 2022 and 2024.
Could we see our first sub 14 5k, sub 29 10k, and sub 3:50 1500 by a woman? Christian Coleman and Asbel Kiprop return and should a high schooler be running 100 mpw? Show notes below.
Join the Revolution, Get Electrolytes without the Sugar Go to DrinkLMNT.com/letsrun and for $5 shipping get a free sample pack of 6 flavors. If you don't like it I'll refund your money. Stay Salty my friends. -Wejo
1:13 XMas chit chat
6:28 Geoffery Kamworor explains how he "only" ran 2:05
8:32 Scott Fauble (to Joe Bosshard), Rory Linkletter (to Ryan hall), Scott Smith (retires) leave HOKA NAZ Elite
21:52 Reminder 45 Japanese men have been sub 2:10 in the marathon this year
24:12 Tracksmith Midnight Gala canceled
32:41 What are you most excited about in 2022? - Men's 100
38:18 Men's 1500
40:37 The women- could we see sub 14 (5k), sub 29 (10k) and sub 3:50 (1500) in 2022? How fast can Athing Mu go?
46:24 How many Olympic medallists will repeat in 2024? - men
53:02 2024 medallists - the women
55:37 Which US Olympians make the team in 2024?
60:15 Cross country in the Olympics?
65:23 Conner Mantz marathon debut
67:51 Dutch 17-year-old high schooler Axel Vang Christensen is running 100 mpw- fair or foul?
Contact us: Email podcast@letsrun.com or call 1-844-LETSRUN and hit option 7 for the secret podcast voicemail.
Join our Supporters Club and take your running fandom to the highest level. Get all the LetsRun.com content, a second podcast every week, savings on running shoes, and a lot more. https://www.letsrun.com/subscribe
Check out the LetsRun.com store. https://shop.letsrun.com/ We've got the softest running shirts in the business.
Thanks for listening. Please rate us on itunes and spread the word with a friend. There is a reason we're the #1 podcast dedicated to Olympic level running.
Find out more at http://podcast.letsrun.com
Send us your feedback online: https://pinecast.com/feedback/letsrun/73dac9d1-1d1a-4046-bd01-a96d746d7fdc