Cole vs Cooper, Y2 Marathon Debut, Penn Relays 4x1 Attempt, Shelby Houlihan report, Author Jerry Bouma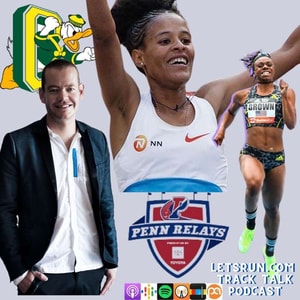 3 months ago
(Sponsor) Wireless compression boots are here. Therabody RecoveryAir JetBoots The next generation in recovery. Free 60-day money-back guarantee trial. Exclusive FastFlush technology, RecoveryAir flushes out metabolic waste more fully and brings back fresh blood to your legs at three times the speed of competitors. https://www.therabody.com/letsrun to try today.
Yalemzerf Yehualaw's marathon debut was a smashing success, Hobbs Kessler's outdoor debut was just as Nick Willis predicted, you can win $2000 if Fred Kerley doesn't break the 100m world record, Karsten Warholm turned down $30,000 to run Pre and Brittany Brown ran 10.66 for 100m.
The 4 x mile world record is taking center stage with Cole Hocker and Cooper Teare coming up short in Oregon, and the On team giving it a go this weekend at Penn. Prediction contest here.
Plus more talk about Ross Tucker's report on the Shelby Houlihan case.
At 76:50 author Jerry Bouma joins us to talk about his new book: The Villanova Track Story: 1966-1981: Touching Greatness, Forever Together
Want a 2nd podcast every week? Join our Supporters Club.
Show notes: 4:32 Ross Tucker's report on the Shelby Houlihan case
16:01 Jon's roommate Zack Beavin wins the USATF 100k title
16:55 Therabody RecoveryAir JetBoots https://www.therabody.com/letsrun
20:22 Yalemzerf Yehualaw's 2:17:23 Marathon debut. Is she the female Kipchoge?
30:14 Duck Track Club (Cole Hocker, Cooper Teare) comes up short in 4 x Mile world record attempt
33:46 On Team going for World Record this week update Geordie Beamish and Jonas Raess out
40:38 Who you got Cole Hocker vs Cooper Teare in the mile right now?
44:52 Hobbs Kessler's 2022 1500 debut & Nostradamus Nick Willis
50:14 Where's Centro?
52:32 Investment opportunity: $2000 if Fred Kerley doesn't break 100m WR this year
55:50 Athing Mu's 2:02 800 opener. She races Ajee' Wilson this week
61:48 Who if anyone will bid on 2024 Olympic Marathon Trials?
66:48 Karsten Warholm turns down $30,000 to race at Pre
72:27 Brittany Brown 10.66 100m
Links: Pro Runners Salaries Revealed
Contact us: Email podcast@letsrun.com or call/text 1-844-LETSRUN
Join our Supporters Club and take your running fandom to the highest level. Get all the LetsRun.com content, a second podcast every week, savings on running shoes, and a lot more. https://www.letsrun.com/subscribe
Check out the LetsRun.com store. https://shop.letsrun.com/ We've got the softest running shirts in the business.
Thanks for listening. Please rate us on itunes and spread the word with a friend. There is a reason we're the #1 podcast dedicated to Olympic level running.