NYC: Jepchirchir Makes History, Seidel Impresses, Drew Hunter BAACK + Guest Elkanah Kibet Living the American Dream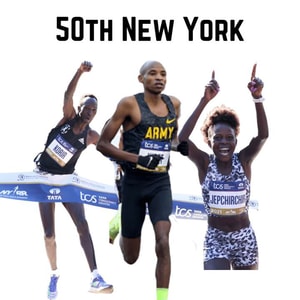 1 year ago
We look back at the 2021 New York City Marathon
Don't wait - Try Electrolytes Without the Junk Now! Go to DrinkLMNT.com/letsrun and for $5 shipping get a free sample pack of 6 flavors. If you don't like it I'll refund your money. It's electrolytes without the junk. Stay Salty my friends. -Wejo
The 50th NYC Marathon is in the books and Albert Korir (Who?!) is your World Marathon Majors Champion, Peres Jepchirchir is a superstar, and Molly Seidel is a really damn good marathoner.
What's up with Kenenisa Bekele and a high schooler in Michigan DQ'd for using a profanity in celebration?
Is Drew Hunter really baaack?
We end with an interview with Elkanah Kibet @76:59 who is living the American Dream, having run a "monumental race" to PR and finish as the 4th placer in New York and 1st American. His journey to America was almost meant to be and traces back to Daniel Komen and Stephen Cherono.
Show notes:
9:50 Albert who?
19:27 Ben True/ Nathan Martin
27:18 Annie Frisbie
29:45 Molly Seidel brings it again
39:56 What about Kenenisa Bekele?
48:57 US 5k Champs Drew Hunter is Baaack!? And persecuted?
59:42 Centro
61:39 12:52 5k on the Roads
64:47 Profanity DQ in Michigan. Article here
75:55 What I learned on the forums: marriage is hell. why haven't we figured out an alternative?
76:59 Elkanah Kibet 1st American in New York, living the American Dream
76:69-85:59 The race in NY
86:00 The training/getting back in WCAP
101:15 "This was monumental"
109:00 Daniel Komen/ Stephen Cherono & The Dream of America
Contact us: Email podcast@letsrun.com or call 1-844-LETSRUN and hit option 7 for the secret podcast voicemail.
Join our Supporters Club and taken your running fandom to the highest level. Get all the LetsRun.com content, a second podcast every week, savings on running shoes, and a lot more. https://www.letsrun.com/subscribe?from=public
Check out the LetsRun.com store. https://shop.letsrun.com/ We've got the softest running shirts in the business.
Thanks for listening. Please rate us on itunes and spread the word with a friend. There is a reason we're the #1 podcast dedicated to Olympic level running.
Find out more at http://podcast.letsrun.com
Send us your feedback online: https://pinecast.com/feedback/letsrun/826ce450-f93f-458d-b180-873287ebf1f3