Biggest Winners and Losers From USAs, Shericka Jackson 21.55, Who Wants the Oregon Job & Sha'Carri Making News Off the Track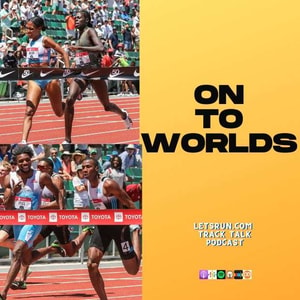 11 months ago
Sha'Carri Richardson and Cole Hocker won't be at Worlds, Fred Kerley, Athing Mu, and Ajee' Wilson most definitely will be.
The 2022 USATF Champs are in the books and we break them all down, start to look ahead to the US distance medal hopes at Worlds,and of course have a little Sha'Carri Richardson off the track talk. Plus, Shericka Jackson won the 100m and dropped a 21.55 bomb at the Jamaican champs, Juliette Whittaker took down Mary Cain's high school 800 record, and who wants the Oregon job?
Show notes below.
Want to be the ultimate track and field insider? Join the LetsRun.com Supporters Club to get all the LetsRun.com content and a 2nd podcast every week (and this podcast when it immediately drops), plus save 20% on Running Shoes and get a Free Summer Training Plan. https://www.letsrun.com/subscribe?from=public
Start: Banter, Jon wins journalism award, dating couples
9:41 Fred Kerley biggest winner at USAs?
19:50 Attendance woes
27:05 Sha'Carri Richardson - biggest loser? Or long-term winner?
30:48 Sha'Carri lecturing media, media lecturing back (video of Sha'Carri speaking to media here, video of her instagram here)
38:34 Sha'Carri clip from FS1 First Take (full 16 minute video here)
40:04 Grant Fisher / Sinclair Johnson - big winners. Ajee' is back!
50:10 Cooper Teare impresses. Would he have been top 4 at British champs?
58:31 What distance runners can medal for US at Worlds?
71:31 Props to Jonah Koech
76:42 Should Jonathan Davis go pro or work for KPMG?
81:21 Juliette Whittaker breaks Mary Cain's hs record. Should she or Cade Flatt go pro?
92:56 Get rid of the Worlds byes
95:30 Lyles or Knighton at Worlds?
103:16 Shericka Jackson steals the show with 100 victory, 21.55 at Jamaican champs
109:42 Who will be next coach at Oregon?
Contact us: Email podcast@letsrun.com or call 1-844-LETSRUN and hit option 7 for the secret podcast voicemail.
Train Smarter This Summer: Our summer training has helped high schoolers, sub 4-minute milers, and anyone passionate about running get faster. Check it out today. FREE with Supporters Club membership https://www.letsrun.com/coaching
Join our Supporters Club and take your running fandom to the highest level. Get all the LetsRun.com content, a second podcast every week, savings on running shoes, and a lot more. https://www.letsrun.com/subscribe
Check out the LetsRun.com store. https://shop.letsrun.com/ We've got the softest running shirts in the business.
Thanks for listening. Please rate us on itunes and spread the word with a friend. There is a reason we're the #1 podcast dedicated to Olympic level running.
Support LetsRun.com's Track Talk by contributing to their tip jar: https://tips.pinecast.com/jar/letsrun
Find out more at http://podcast.letsrun.com
Send us your feedback online: https://pinecast.com/feedback/letsrun/82dfa542-4b81-49fb-be02-641eabd74b6b