Good, Bad, and the Ugly of World Indoors, NYC Half, Serbia, and that Cooper Teare, Cole Hocker Time Trial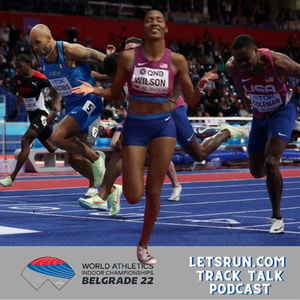 3 months ago
Marcell Jacobs and Christian Coleman gave the sport what it wanted in the 60, Ajee' Wilson finally was golden, and Elle Purrier impressed at World Indoors. Plus a few athletes may have gotten wake-up calls, insights from the NYC Half on Sara Hall, Galen Rupp and others, and that time trial that Cooper Teare and Cole Hocker ran.
We end with Supporters Club audio of Jon and Rojo's night out in Serbia on the LetsRun.com credit card.
Show notes below.
Links: 1. Thread: Biggest Winners/Losers from World Indoors. 2. Geordie Beamish interview. 3. World indoors interviews.
10:30 Big Picture takeaways from World Indoors
17:58 American get 3 distance medals - good, bad or as expected?
22:27 Biggest winners from Worlds
28:08 Marcell Jacobs a big winner as was Christian Coleman
36:49 Biggest losers?! - Isaiah Harris?, Gabriela Debues-Stafford?, Ollie Hoare?
51:23 Ajee' Wilson lifetime achievement gold medal
52:32 Athing Mu's instagram post, Gloria Gaynor, and Wejo bombing on a DMR anchor
61:33 Takeaways from being in Serbia
68:46 NYC Half Marathon. Videos
86:11 Asbel Kiprop returns with 1:56 800?
90:04 Cooper Teare 13:06, Cole Hocker 13:08 in a race with 3 finishers. Athletes chasing standards instead of racing world indoors
100:59 Rojo and Jon's St. Patrick's day in Serbia & the woman at the bar
Contact us: Email podcast@letsrun.com or call 1-844-LETSRUN and hit option 7 for the secret podcast voicemail.
Join our Supporters Club and take your running fandom to the highest level. Get all the LetsRun.com content, a second podcast every week, savings on running shoes, and a lot more. https://www.letsrun.com/subscribe?from=public
Check out the LetsRun.com store. https://shop.letsrun.com/ We've got the softest running shirts in the business.
Thanks for listening. Please rate us on itunes and spread the word with a friend. There is a reason we're the #1 podcast dedicated to Olympic-level running.
Find out more at http://podcast.letsrun.com
Send us your feedback online: https://pinecast.com/feedback/letsrun/83c683ef-7cba-4311-b06f-9b0b605d69e5
This podcast is powered by Pinecast.