Rest in Peace Peter Snell, Foot Lockers, Alberto, The Decade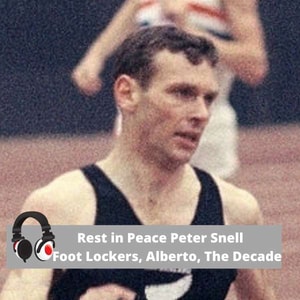 9 months ago
Olympic and Kiwi legend Peter Snell has passed. Kiwi Running Show podcast host Hayden Shearman joins us to give his insight on Snell, the athlete of the last century in New Zealand.
Update: Peter Snell's biography No Bugles, No Drums is now available on kindle here.
We discuss Foot Lockers and debate Zofia Dudek vs Kately Tuohy, give praise to podcast listener Josh Methner for his run away victory. Alberto Salazar = the possible person of the decade? Des Linden running Olympic Trials and Boston, + club nats and Tuohy, Mary Cain, and Tinman elite, race of decade, and threads of week. Full notes below.
Still need the perfect Christmas / New Year's gift? NormaTec recovery. Recover like the pros and save $100 + get free shipping on a NormaTec Pulse 2.0 recovery system.
Want to race and see the Olympic Marathon Trials? Run the Publix Atlanta Marathon, half and 5k the day after the Trials. More info here.
Rojo's deal of the podcast: Want a $15 gift card from Amazon? Click here (and buy a $50 gift card to get a free one)
Show notes:
0:00 Peter Snell
8:36 Foot Lockers
21:05 Weekly Vaporfly Segment / David Graham won't be doing Marathon World Rankings because of shoes / Tim Tollefson's tweet
31:46 Alberto Salazar segment of week / Person of the decade?
39:48 Who is the father, son and holy spirit of LetsRun podcast?
43:04 Des Linden Olympic Trials/ Boston double
51:36 Hayden Shearman of Kiwi Running Show podcast on Peter Snell
69:34 Race of Decade
78:51 Threads of Week (click for each) / Katelyn Tuohy/ Mary Cain/ Morgan Pearson/ Tinman Elite at Club Nats / Jim Walmsley's training week / Cheaterfly's & Rupp
87:57 In which pro sport is an amateur exposed the quickest?
Holidays callers wanted for the podcast- call 844-LETSRUN (538-7786) and hit option 7.
Need a new pair of shoes here? Find the best shoes and prices here.
Support LetsRun.com's Track Talk by donating to their Tip Jar: https://tips.pinecast.com/jar/letsrun
We'd love feedback on this episode and the show in general https://pinecast.com/feedback/letsrun/84dfbf83-78f3-4349-bfdf-9b9557790845