So Close, So Far, and Super Agent Paul Doyle on American Track League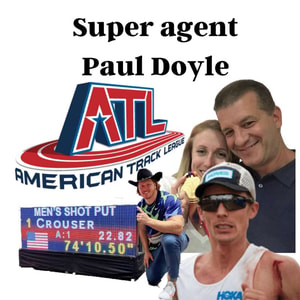 5 months ago
Super-agent Paul Doyle is our guest at 60:06 and he talks the debut and future of the American Track League and why he may have half his net worth invested in it.
Prior to that we look back at Mary Cain, Kara Goucher and the allegations against Alberto Salazar and the NOP and look ahead to a crazy fall marathon schedule before turning to last week's action.
Jim Walmsley, (the guest last week on the Track Talk podcast) ran for 6 hours and just missed the 100km world record by 12 seconds at HOKA Project Carbon X, Ryan Crouser go the shot put world record, and Christian Noble of Lee (Tenn.) University got a collegiate record and sent his teammates into a frenzy.
Free Sample Pack of LMNT for Track Talk Listeners A new way to hydate is here. LMNT provides essential electrolytes without sugar, artificial ingredients, coloring, or any other junk. LetsRun.com Track Talk podcast listeners can claim their free sample pack - by going to DrinkLMNT.com/LetsRun . (You pay just $5 shipping).
Show notes:
7:11 NOP, Alberto Salazar, Mary Cain, Kara Goucher on HBO Sports
15:39 Boston Marathon has a date (and it's 1 day after Chicago and 8 after London)
18:28 Are the Tokyo Olympics in jeopardy?
27:51 Oh so close: Jim Walmsley runs for 6 hours and misses the 100km world record by 12 seconds
38:14 Oh so far: Ryan Crouser world record
40:27 Christian Noble 13:37 DII record and crazy reaction video
46:21 Michigan pauses sports for 2 weeks
52:00 Email of Week
57:34 RAK Half is STACKED
60:06 Paul Doyle
Support LetsRun.com's Track Talk by donating to their Tip Jar: https://tips.pinecast.com/jar/letsrun
Find out more at http://podcast.letsrun.com
Send us your feedback online: https://pinecast.com/feedback/letsrun/866bbb4d-cfd3-4574-97ce-c5ed4a5905e9