Grant Fisher (Guest) American Record Podcast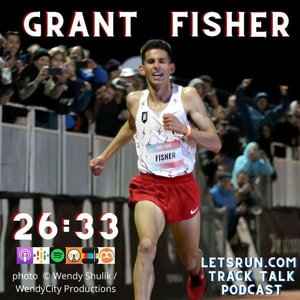 3 months ago
America's new distance superstar Grant Fisher joins us to talk all about his 12:53 5,000 and 26:33 10,000m American records.
What was Grant's mindset heading into the race, during the race, and where does he go from here? When did the record attempts come about, how tough is it to join Jerry Schumacher's Bowerman Track Club, has he heard from Galen Rupp and a ton more?
Red, White and Navy Blue LetsRun.com Shirts now in the LetsRun.com Shop. Celebrate America distance running greatness - shop.letsrun.com
Join the LetsRun.com Supporters Club today and use code CLUB25 to save 25%.
Get Electrolytes Without the Junk or Sugar- Try a free Drink LMNT Sample Pack Today No sugar, no artificial flavors. Go to DrinkLMNT.com/letsrun and for $5 shipping get a free Drink LMNT sample pack of 6 flavors. If you don't like it Wejo (wejo@letsrun.com) will refund your money. Hydrate smarter in 2022.
Show notes:
0:00 LetsRun.com Red, White and (Navy) Blue shirts are here https://shop.letsrun.com/
1:00 DrinkLMNT.com/letsrun (ad) - Electrolytes without the junk
1:43 The record, how it came about
10:29 Woody Kincaid's pacing / wavelight
17:32 Grant's mindset in race
21:46 What happens after the race, celebrating on the beach?
24:34 Rojo asks about drugs
30:05 Has he heard from Galen Rupp?
35:24 Super spikes
39:54 5k or 10k?
47:17 Tokyo Olympics
50:59 How tough is it joining Bowerman and the story of the ugly duckling
59:56 Is Jerry Schumacher a control freak?
62:58 Where's Centro?
Remember: https://drinklmnt.com/letsrun
Contact us: Email podcast@letsrun.com or call 1-844-LETSRUN and hit option 7 for the secret podcast voicemail.
Join our Supporters Club and take your running fandom to the highest level. Get all the LetsRun.com content, a second podcast every week, savings on running shoes, and a lot more. https://www.letsrun.com/subscribe?from=public
Check out the LetsRun.com store. https://shop.letsrun.com/ We've got the softest running shirts in the business.
Thanks for listening. Please rate us on itunes and spread the word with a friend. There is a reason we're the #1 podcast dedicated to Olympic level running.
Support LetsRun.com's Track Talk by contributing to their Tip Jar: https://tips.pinecast.com/jar/letsrun
Find out more at http://podcast.letsrun.com
Send us your feedback online: https://pinecast.com/feedback/letsrun/904ecaab-f7bd-4697-a732-0eeb736c3a72
This podcast is powered by Pinecast.