Grant Fisher World Record Attempt?, NBIGP Delivers, London is Loaded, Ben Rosario (Guest)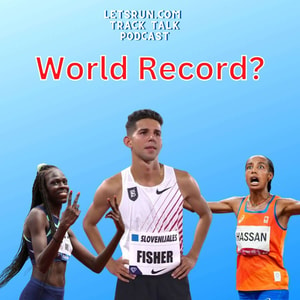 1 month ago
Ben Rosario, the Executive Director of HOKA NAZ Elite joins us @ 98:43 to give us his Super Bowl picks and an update on the HOKA NAZ Elite team. Are they primed to do better at 2024 Olympic Marathon Trials than 2020?
The New Balance Boston Indoor Grand Prix took place at a sold-out The TRACK in Boston and we break down the scene and the action.
But prior to that, Grant Fisher is running the 3000 in Liévin, France next week, could the American or even WORLD record be in jeopardy?
Athing Mu pulled out of Millrose. What should we make of it?
(Our Loaded Millrose Games preview podcast will be Friday for Supporters Club members only. Join today https://www.letsrun.com/subscribe)
The London Marathon fields are out. Is this the greatest women's field ever? What about Sifan Hassan in her debut?
Are you a sports fan and need an IP anywhere in the world? Do you not want people snooping on your internet traffic? Be sure to use the VPN we at LetsRun use. Try NordVPN today with a special offer through our link. Go here for a 30-day money back guarantee https://www.letsrun.com/vpn
Show notes:
05:02 Grant Fisher World Record Attempt in 3k?
16:20 New Balance Indoor Grand Prix - General impressions/ the crowd
27:58 Noah Lyles takes down Trayvon Bromell
34:17 Other winners Christian Noble, Heather MacLean, Isaiah Jewett
41:10 Rojo sounds the alarm on Bryce Hoppel
44:42 Hobbs Kessler underperforms
50:47 Athing Mu out of Millrose
01:03:15 44 athletes defend Mark Wetmore the Colorado coach
01:12:51 London Marathon field is loaded - greatest women's field ever?
01:22:30 What about Sifan Hassan in her marathon debut?
01:28:24 Keira D'Amato and Emily Sisson in London
01:34:05 Molly Seidel 71:43 Half Marathon + Justine Kiprotich update
01:38:43 Ben Rosario HOKA NAZ ELITE
01:39:37 Ben's Super Bowl Betting Picks
01:46:49 Giving up coaching, attracting sponsors
01:52:26 2024 Olympic Marathon Trials - Can HOKA NAZ Elite recreate the 2020 magic?
01:58:07 The non marathoners on NAZ Elite
02:00:20 The amazing Wesley Kiptoo (and his gloves)
Contact us: Email podcast@letsrun.com or call/text 1-844-LETSRUN podcast voicemail/text line.
Want a 2nd podcast every week? And savings on running shoes? Join our Supporters Club today and get all the LetsRun.com content, a second podcast every week (the Friday 15 - which is usually much more than 15 minutes), savings on running shoes, and a lot more. Cancel at anytime. https://www.letsrun.com/subscribe
Check out the LetsRun.com store. https://shop.letsrun.com/ We've got the softest running shirts in the business.
Thanks for listening. Please rate us on itunes and spread the word with a friend. There is a reason we're the #1 podcast dedicated to Olympic level running.
Find out more at http://podcast.letsrun.com
Rate us on itunes & email us podcast@letsrun.com but you can leave feedback here too. https://pinecast.com/feedback/letsrun/aa126cb9-33fe-4782-9ea5-26198c7adcb6
This podcast is powered by Pinecast.