Aussie Globe Trotting, Mile/3k/5k Star Stewart McSweyn (Guest)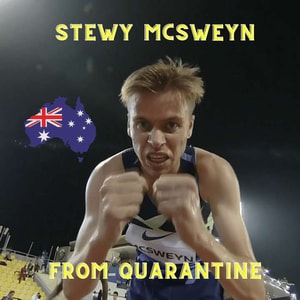 2 months ago
Last week did a live video talk with Aussie miler, 3k, 5k star, Stewy McSweyn, as he entered quarantine. He's still locked in his quarantine and it's out now as a podcast.
McSweyn recounts his great 2021 year, his globetrotting ways, discusses who is the GOAT of Australian distance running, what country is best in the 4x mile, and what his relationships is with his rivals Jakob Ingebrigtsen and Timonty Cheruiyot.
Last chance to save 10% on AirWaav Performance Mouth Piece (Ad) The AIRWAAV Performance Mouthpiece is a relatively new training tool that launched late in 2020 after nearly 16 years of research. The AIRWAAV performance mouthpiece fits along your bottom teeth and pushes your jaw just forward enough to create the "optimal airway opening," resulting in:
Increased endurance — by reducing respiratory rate by 20%, resulting in less lactic acid production
Increased strength — by improving muscular endurance
Faster recovery times — by reducing cortisol build-up by up to 50%
Go to https://airwaav.com/LR10 and use code LR10 to save 10%
Show notes:
Start: Quarantining and racing a lot
12:15: Grading his 2020 season
19:51 What's his relationship with Jakob Ingebrigtsen and Timothy Cheruiyot?
21:53 4x Mile : Australia vs Great Britain vs Norway vs Kenya vs USA: Who Wins?
24:17 Having never run an 800m race under 2:00
27:00 His steeplechase days (and Jakob Ingebrigtsen's steeplechase days)
30:30 Craig Mottram GOAT?
31:38 Future goals for his career
33:00 His training
41:44 Not coming to the US for college
45:16 His twin brother
Contact us: Email podcast@letsrun.com or call 1-844-LETSRUN and hit option 7 for the secret podcast voicemail.
Join our Supporters Club and taken your running fandom to the highest level. Get all the LetsRun.com content, a second podcast every week, savings on running shoes, and a lot more. https://www.letsrun.com/subscribe
Check out the LetsRun.com store. https://shop.letsrun.com/ We've got the softest running shirts in the business.
Thanks for listening. Please rate us on itunes and spread the word with a friend. There is a reason we're the #1 podcast dedicated to Olympic level running.
Send us your feedback online: https://pinecast.com/feedback/letsrun/aaa014b7-9ca8-4d94-860f-cd429e5b2f29