Boston is LOADED, USA XC Champs, and Molly Seidel was robbed (by us)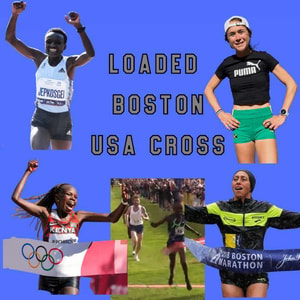 1 year ago
Jon is "buddies" with Karsten Warholm, Alicia Monson gets her first US title, Shadrack Kipchirchir returns to the top, the Boston Marathon women's field is absolutely loaded with Peres Jepchirchir vs Joyciline Jepkosgei vs Molly Seidel. Was Seidel a top 10 marathoner in 2021?
Start 2022 Out Right! Get Electrolytes without the Junk No sugar, no artificial flavors. Go to DrinkLMNT.com/letsrun and for $5 shipping get a free Drink LMNT sample pack of 6 flavors. If you don't like it Wejo (wejo@letsrun.com) will refund your money. Train better in 2022.
Get Your tickets to the Millrose Games January 29th in NYC
Start: Karsten Warholm, Jon's "buddy"
4:27 Millrose Games are even more loaded -get your tickets here
8:46 Fuel properly in 2022 with Drink LMNT - Electyrolytes without the junk. Free 6 flavor sample pack for $5 shipping.
9:31 Alicia Monson takes down Weini Kelati, Emily Infeld 3rd at US Cross Country
16:47 Shadrack Kipchirchir is back, Sam Chelanga unretired, and Dillon Maggard looking for a sponsor + unheralded Benjamin Eidenschink and Craig Lutz
34:16 Boston women's field loaded with Peres Jepchirchir vs Joyciline Jepkosgei vs Molly Seidel
43:46 Was Molly Seidel a top 10 marathoner in the world in 2021?
54:32 Chris O'Hare retires
57:10 Ben Flanagan out at Reebok Track Club, Robby Andrews in?
59:17 RIP Deon Lendore
65:38 Nick Willis comes up short in his sub 4 attempt
71:21 If you want to play on Wejo's over 40 soccer team (35+ for goalies) email wejo@letsrun.com
73:09 Does Boston need Bekele?
Call 1-844-LETSRUN (844-538-7786) and hit option 7 for the secret podcast voicemail. You can now text us at 1- 844-538-7786 or Email podcast@letsrun.com
Join the most exclusive club in running the LetsRun.com Supporters Club and take your running fandom to the highest level. Get all the LetsRun.com content, a second podcast every week, savings on running shoes, and a lot more. https://www.letsrun.com/subscribe
Check out the LetsRun.com store. https://shop.letsrun.com/ We've got the softest running shirts in the business.
Thanks for listening. Please rate us on itunes and spread the word with a friend. There is a reason we're the #1 podcast dedicated to Olympic level running.
Find out more at http://podcast.letsrun.com
Send us your feedback online: https://pinecast.com/feedback/letsrun/ac70c52e-7125-4f07-a32b-43ca634f3f51