Leo Daschbach Sub 4 in a Real Race, Pro Runner Wedding Bells, London Marathon in Doubt, LRC's Big Poker Win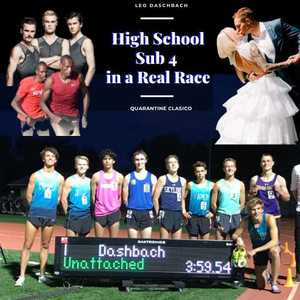 4 months ago
A high schooler went sub 4 during the COVID19 shutdown.
Despite the COVID shutdown high schooler Leo Daschbach ran sub 4 in the Quarantine Clasico in California with a tremendous final lap to become the 11th high schooler in the US in the sub 4 club. Pros Nick Symmonds and Leah O'Connor got married (not to each other), Rojo discusses Des Linden's body fat percentage, we learn about the 6 figure poker win that helped fuel LetsRun.com, break down the Impossible Games, and discuss if all big city marathons are in trouble in 2020. Plus what is the best way to recover after a hard interval and does a belief in god help pro runners?
Shh. The LetsRun.com Summer Training Program is Coming Soon. Keep checking the site or email [email protected] if you want to be notified when it launches.
Show notes: Start: Daschbach Sub 4 + where does it rank, should it have been held, Andy Powell's recruiting...
20:03 Alan Webb's 3:53 high school mile and 3:46 American record.
25:48 London Marathon (and all big city marathons) in jeopardy for 2020?
36:16 Japanese college coaches live with their athletes
40:35 Des Linden's body fat percentage and threads of week
46:54 Impossible Games in Norway and Team Ingebrigtsen vs Team Cheruiyot
54:01 The 6 figure LRC poker win
57:07 Mental focus of being a pro. Does a belief in god help? (Evan Jager and Nick Willis)
67:02 Nick Symmonds & Leah O'Connor get married (not to one another)
71:34 Best way to recover after a hard interval?

Support LetsRun.com's Track Talk by donating to their Tip Jar: https://tips.pinecast.com/jar/letsrun
Find out more at http://podcast.letsrun.com
Send us your feedback online: https://pinecast.com/feedback/letsrun/ad96d4f6-7de0-489a-b905-e7312440a75b