Jim Ryun is the GOAT, $300 Fines for Running Without a Mask, Max Siegel Gets Paid + Big Anniversaries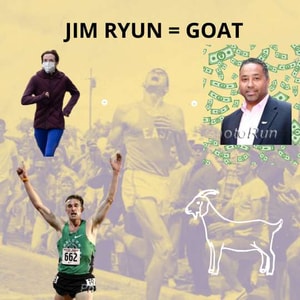 2 months ago
Best professional running podcast on the planet
Jim Ryun is voted the GOAT, Deena Kastor female GOAT, Chris Solinsky's 26:59 10th anniversary, LetsRun.com 20th anniversary, did Jonathan Gault really talk to Jerry Schumacher?, will Jon Gault run with a mask or risk getting a $300 fine, Max Siegel is getting PAID, London Marathon and more.
Sponsors: One Week Only: Biggest Sale Ever at NormaTec and Hyperice! Save $300 on NormaTec Leg Pulse 2.0 System. Save $50 on percussion. Details here.
TheFeed.com has everything you need to perform at your best and try and stay healthy. They have a new product - BLDG Active's Anti-microbial Face and Hand Spray which is a medical-grade solution you can take with you to spray on your hands and face. Go to TheFeed.com/Letsrun for more info and use code LETSRUN to save 15% off your entire order.
Show notes:
5:19 Jim Ryun GOAT. Deena Kastor female GOAT vs Joan Benoit Samuelson
23:49 COVID 19 and London Marathon - Bekele vs Kipchoge
30:49 LRC grows by 1: World meet a healthy Sydney Dileen Soprano
34:38 $300 Fines for running in Cambridge (Boston suburb) without a mask *Thread 2: Runners that live in U.S. cities: are you wearing a mask while out running?
46:45 When were the LRC babies conceived?
49:43 Max Siegel making the big bucks. Is he worth it?
60:10 Chris Solinsky's 26:59 10th anniversary
Got audio feedback for the show? Fake Galen Rupp where are you? Call 844-LetsRun (844-538-7786) and hit option 7.
Support LetsRun.com's Track Talk by donating to their Tip Jar: https://tips.pinecast.com/jar/letsrun
Rate and review us on itunes or leave feedback here. https://pinecast.com/feedback/letsrun/addd22d0-a6ce-4daf-a4d9-affe23ca316e