Boston Marathon, Brown Track and Field Cancelled + Guest Tyler Andrews Goes for Treadmill World Record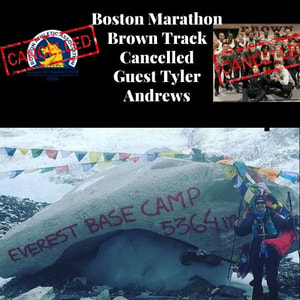 4 months ago
Running is universal.
The show goes on with the world mourning the murder of George Floyd and we start by paying our respects.
We end with guest Tyler Andrews joining us (73:20) to talk the Chaski Challenge and his attempt to break the marathon and 50k treadmills world records, plus setting a Mount Everest base camp FKT.
The last week saw the Boston Marathon cancelled and Brown University cut its men's track and field team, one of its most racially diverse sports, in the name of diversity. Plus Colleen Quigley won the ESPN Peloton Challenge, Johnny Gregorek ran a 4:06 mile in a pair of Levis, doping and Lance Armstrong talk and a new special segment where we get Hot Takes from a podcast listener with a cool name- Joe Fast (who will be running for Jason Vigilante at Princeton next year).
John Kellogg is officially out of retirement and the LetsRun.com Summer Training Program is here. Designed for high school and college runners, the goal is to set you up for a fall and lifetime of success. Sign up here. (and use code "podcast" to save $25)
Show notes:
0:00 George Floyd RIP + Comments from Michael Johnson
5:23 Boston Marathon cancelled
9:23 Brown University cuts men's track and field in name of diversity
22:36 ESPN Peloton Challenge and Colleen Quigley > Rory McIlroy > Allyson Felix
27:36 High schooler sub 4s and correction on Leo Daschbach
30:26 Johnny Gregorek Blue Jean Mile world record for NAMI + Alan Webb 3:46 Mile Talk
36:50 Thoughts on Lance Armstrong 30:30 (Our podcast with Floyd Landis is here) + Alberto Salazar doping appeal date set
44:17 Will doping go away? Good read on Abdi Nageeye, Dutch Record Holder, here
52:30 New segment: Reader Hot Takes with high school senior Joe Fast: Canadian Abdullahi Hassan will win the next 10 NCAA titles, Alan Webb > Ryan Hall & Ritz, Mo Farah could have gotten the world records, Bryce Hoppel could be greater than Donavan Brazier?
73:20 Tyler Andrews Talks Chaski Challenge and trying to break marathon, 50k treadmills World Records this weekend
Support LetsRun.com's Track Talk by donating to their Tip Jar: https://tips.pinecast.com/jar/letsrun
Find out more at http://podcast.letsrun.com
Please take a second to rate and review us on Itunes or gives us feedback at this link. https://pinecast.com/feedback/letsrun/b0339d08-8a6c-4858-b249-6598746ee2c0