Superstars (Tuohy, Fahnbulleh, Allen, Sha'Carri, Steiner) Deliver + Guest Cade Flatt Going for 800 History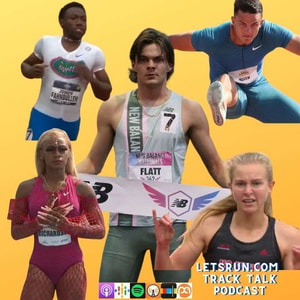 5 months ago
What a week. The 2022 NCAA championships are in the books and the Joseph Fahnbulleh freight train arrived, Katelyn Tuohy got NCAA title #1, Abby Steiner got some Allyson Felix comparisons - we break it all down.
At 110:33 we are joined by the fastest high school 800m runner in the nation (and one of the most confident), Cade Flatt (@FlattCade & IG: @cadeflatt) from tiny Benton Kentucky (population 4,756) before he tries to break Michael Granville's 26-year-old national 800m record of 1:46.45 at this weekend's New Balance Outdoor Nationals at historic Franklin Field in Philadelphia. Cade talks about the record, his unorthodox training (how does a 5 mile week sound?), his confidence, and his desire to race the senior USATF Outdoor nationals this year.
Devon Allen shocked the world at the NYC Grand Prix as the US stars were out in full force, Noah Lyles, Sydney McLaughlin, Christian Coleman and Sha'Carri Richardson in her fish net attire. The 50th NY Mini was held. A bonus length podcast to break it all down. Show notes below.
Train Smarter This Summer: Our summer training has helped high schoolers, sub-4-minute milers, and anyone passionate about running get faster. Check it out today. FREE with Supporters Club membership https://www.letsrun.com/coaching
Want an Oslo and Paris Diamond League podcast? Join the Supporters Club to get all the LetsRun.com content and a 2nd podcast every week (and this podcast when it immediately drops), plus save 20% on Running Shoes and get a Free Summer Training Plan. https://www.letsrun.com/subscribe?from=public
Show notes: Start banter, preview
5:41 Fake Josh Kerr on Supporters Club, Hadrian's wall, and 'hobby jogger' Malcolm Gladwell
8:38 Would Nick Willis' career been much shorter if he was American?
10:48 Huge NCAA recap show - Big takeways- Tuohy gets title #1, Joseph Fahnbulleh show, age matters
25:07 Abby Steiner impersonating Allyson Felix?
31:00 Men's 1500 at NCAAs?
43:39 Nico Young comes up short. Who has better pro prospects him or Katelyn Tuohy
57:42 Biggest surprise at NCAAs- Yale's Kayley DeLay 15 second PR in steeple, #3 NCAA time ever
64:11 USATF NYC Grand Prix
69:21 Sha'Carri Richardson's outfit
80:03 Breaking Max Burgin news
83:34 Devon Allen 12.84!
93:18 50th NY Mini
99:18 Molly Seidel getting a TUE for adderall
102:46 Yared Nuguse 3:34
110:33 Cade Flatt - high school 800 star guest. Cade is hoping to make history this weekend at New Balance Nationals.
Contact us: Email podcast@letsrun.com or call 1-844-LETSRUN and hit option 7 for the secret podcast voicemail.
Join our Supporters Club and take your running fandom to the highest level. Get all the LetsRun.com content, a second podcast every week, savings on running shoes, and a lot more. https://www.letsrun.com/subscribe
Check out the LetsRun.com store. https://shop.letsrun.com/ We've got the softest running shirts in the business.
Thanks for listening. Please rate us on itunes and spread the word with a friend. There is a reason we're the #1 podcast dedicated to Olympic level running.
Support LetsRun.com's Track Talk by contributing to their tip jar: https://tips.pinecast.com/jar/letsrun
Find out more at http://podcast.letsrun.com