Alicia Monson Talks Olympic Trials, Sean McGorty Future of the Steeple?, Rojo Victory Lap, Nuguse Over Hocker, Huddle Done?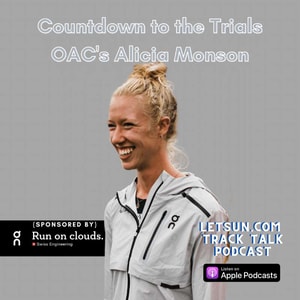 5 months ago
On Running is sponsoring the LetsRun.com Countdown to the Trials.
Your weekly run down of the track and field world. Rojo starts with a DK Metcalf victory lap, we discuss whether Sean McGorty is the future of the steeple, praise Elle Purrier, blast the US men's 1500m runners, wonder what is going on with Nikki Hiltz and Molly Huddle, look at Yared Nuguse's victory over Cole Hocker.
At 82:27 we're joined by the OAC's Alicia Monson, the woman coach Dathan Ritzenhein said could be "the next great American female distance runner." We talk about Alicia turning pro, joining the OAC, and getting ready for next month's Olympic Trials where she's an up and coming underdog in either the 5,000, 10,000 or both. Can she really be the next Deena or Shalane? First up is trying to make Olympic team #1.
Drink LMNT Free Trial is Back. It Takes 2 Minutes and you pay only $5 shipping. LMNT provides essential electrolytes without sugar, artificial ingredients, coloring, or any other junk. Claim your free 7 packet sample pack - by going to DrinkLMNT.com/LetsRun . Wejo loves LMNT. He will personally refund your $5 if you don't like it.
Show notes:
3:21 DK Metcalf 10.37 100m
10:18 Sha'carri Richardson- the best ever?
17:59 Women's 800: Kate Grace and Brenda Martinez are back. Raevyn Rogers?!
20:59 Sean McGorty the future of the US steeple?
27:28 Ollie Hoare and Justyn Knight embarrass US 1500m runners
33:32 Elle Purrier Joins Sub 4 club
36:45 Nikki Hiltz not racing well
41:15 Molly Huddle done?
45:42 Courtney Frerichs defeats Leah Falland in steeple
48:49 Yared Nuguse Over Cole Hocker and Cooper Teare
51:07 US 1500 $1000 Challenge
54:38 Gudaf Tsegay world record holder in indoor 1500 runs 29:39 10,000
61:56 Covid sniffing dogs, Kentucky Derby
65:22 Wejo's Rant on Tokyo cancellation
71:46 Newbury Park and 4 underclassmen go sub 9 in 2 mile including Nico Young's brothers
76:25 Sound Running goes PPV - a good thing?! Tempo Journal article here
82:27 NCAA champion and the OAC's Alicia Mondon joins us to talk Olympic Trials possible double!?
Super Soft LetsRun.com / Running shirts are here: Shop.letsrun.com.
Not a Supporters Club member? Join today and a second podcast every week the Friday Fifteen letsrun.com/subscribe
We want your feedback. Email podcast@letsrun.com or call 1-844-LETSRUN and hit option 7 to leave a private voicemail
(Sponsor) The AIRWAAV Performance Mouthpiece is a relatively new training tool that launched late in 2020 after nearly 16 years of research. The AIRWAAV performance mouthpiece fits along your bottom teeth and pushes your jaw just forward enough to create the "optimal airway opening," resulting in:
Increased endurance — by reducing respiratory rate by 20%, resulting in less lactic acid production
Increased strength — by improving muscular endurance
Faster recovery times — by reducing cortisol build-up by up to 50%
LetsRun listeners can save 10% with the code "LR10" Dig into the science and put AIRWAAV to the test. Click here to try it out.