LOADED Millrose Games Preview, Can Josh Kerr Break the Outdoor WR? Hellen Obiri to On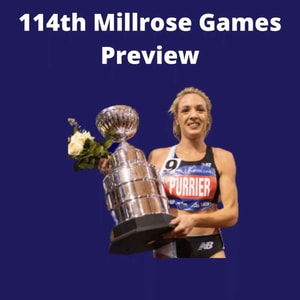 4 months ago
Saturday's Millrose Games is the best it's been in ages and we break it down in great detail. To hear from us after Friday's press conference join the Supporters Club.
Plus we've got clips from the LetsRun.com Pro Coaches Tour talk with the Brooks Beasts Coach Danny Mackey (Video of our talk with Mackey here. To get it as a podcast, join the Supporters Club), discuss whether Josh Kerr can get the world record in the 1500, and talk about Hellen Obiri signing with On.
Start 2022 Out Right! Get Electrolytes without the Junk No sugar, no artificial flavors. Go to DrinkLMNT.com/letsrun and for $5 shipping get a free Drink LMNT sample pack of 6 flavors. If you don't like it Wejo (wejo@letsrun.com) will refund your money. Train better in 2022.
(Ad) You can still get Millrose Games tickets. Be there for history this Saturday. Get your tickets here
Show notes: 6:19 Men's 60 The race of the year? Christian Coleman vs Noah Lyles vs Ronnie Baker vs Trayvon Bromell
16:52 Men's 800: Michael Saruni vs Bryce Hoppel and others
25:00 Pro Coaches Tour Clip: Brooks Beast Danny Mackey - The athlete makes the coach
29:05 Women's 3000: Alicia Monson
34:22 Donavan Brazier injury update, he's back racing in 400
40:14 Loaded men's 3k - Cole Hocker, Nico Young, Geordie Beamish, Drew Hunter, Cooper Teare
47:17 Nico Young 3:54 mile "school record"
51:12 Yared Nuguse not in 3k, is he an Olympian?
57:55 Raevyn Rogers 400
58:45 Whoop Women's Wanamaker Mile: Elle Purrier St Pierre, how does Athing Mu do
66:45 Ajee' Wilson in 800
71:30 Whoop Wanamaker Mile: Josh Kerr, Craig Engels, Hobbs Kessler, Ollie Hoare
80:21 Pro Coaches Tour Clip: Can Josh Kerr get ther WR in the 1500?
89:09 High school record in 600 by Will Sumner
94:14 Hellen Obiri sings with On, moving to Boulder, to join Ritz and OAC
101:20 High school 200 by 6'5 225 lbs Nyckoles Harbor 
Links: John Velzian RIP Kenyan coach thread.
Contact us: Email podcast@letsrun.com or call 1-844-LETSRUN and hit option 7 for the secret podcast voicemail.
Join our Supporters Club and take your running fandom to the highest level. Get all the LetsRun.com content, a second podcast every week, savings on running shoes, and a lot more. https://www.letsrun.com/subscribe
Check out the LetsRun.com store. https://shop.letsrun.com/ We've got the softest running shirts in the business.
Thanks for listening. Please rate us on itunes and spread the word with a friend. There is a reason we're the #1 podcast dedicated to Olympic level running.
Find out more at http://podcast.letsrun.com
Send us your feedback online: https://pinecast.com/feedback/letsrun/c674b3ec-b18e-4e24-a300-6e898e993229