Jakob Masterclass, Marcell Jacobs is Back, Grant Fisher AR in Monaco + Fall Marathons Preview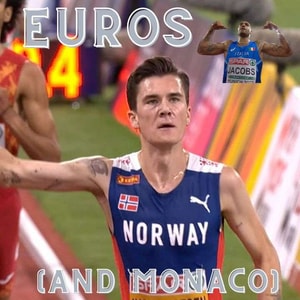 3 months ago
Jakob Ingebrigtsen made it look easy over Mohamed Katir in the Euro 5000. Is he unbeatable at 5000?
Marcell Jacobs is back in form with a 9.95 European win. Grant Fisher left Monaco with the American record while Faith Kipyegon just missed the 1500 world record.
The fall marathon fields are largely out and we give our thoughts on Berlin, London, Chicago and New York.
Show notes below.
(Sponsor) The AIRWAAV® ENDURANCE Performance Mouthpiece is here! Airwaav is a relatively new training tool that launched late in 2020 after nearly 16 years of research. Now they have the ENDURANCE model that provides a more snug fit, keeping the mouthpiece in place for endurance athletes who relax their jaw during long-distance workouts or races. The AIRWAAV performance mouthpiece fits along your bottom teeth and directs your tongue down and forward creating the "optimal airway opening" resulting in:
Increased airway opening by up to 25% resulting in an immediate 28.5% respiratory rate reduction during a steady-state run
Increased endurance — by reducing respiratory rate by 20%, resulting in less lactic acid production
Faster recovery times — by reducing cortisol build-up by up to 50%
LetsRun listeners can save 10% with the code "LR10" Dig into the science and put AIRWAAV to the test. Click here to try it out.
Want a 2nd podcast every week? Timestamps? Join our Supporters Club and take your running fandom to the highest level. Get all the LetsRun.com content, a second podcast every week, savings on running shoes, and a lot more. https://www.letsrun.com/subscribe?from=public
Order of show (Supporters Club members get full time stamps)
0:00 Airwaav Performance Mouthpiece Use code LR10 to Save 10%
Jakob Ingebrigtsen Masterclass Performance Euro 5000
Crowds, When Should Worlds Be?
Marcell Jacobs 9.95 European Champion
36:06 Rest of Euros
Fake Josh Kerr
Monaco: Faith Kipyego Just Misses WR, Hobbs Kessler 1000
Men's 3k: Grant Fisher AR, Thierry Ndikumwenayo and Voicemail from Bob in Baltimore
66:10 Fall Marathon Preview
NACACs- Bonus if you know what they are
Heather MacLean Performance of the Week?
Check out the LetsRun.com store. https://shop.letsrun.com/ We've got the softest running shirts in the business.
Contact us: Email podcast@letsrun.com or call 1-844-LETSRUN and hit option 7 for the secret podcast voicemail.
Thanks for listening. Please rate us on itunes and spread the word with a friend. There is a reason we're the #1 podcast dedicated to Olympic level running.
Send us your feedback online: https://pinecast.com/feedback/letsrun/ccb63e77-07b9-4997-9512-81bdf1b04d06