Olympic Marathoner Jake Riley "There's a big part of me that wants to try and go for a medal"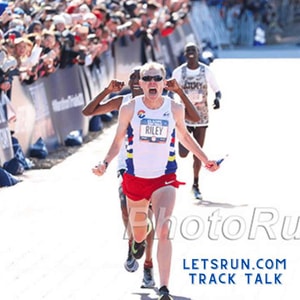 2 months ago
Jake Riley had a rags to riches story in making the 2020 US Olympic Marathon Team.
In 2018 he hadn't raced in two years and was 50% certain he wouldn't race competitively again. In 2019, he entered the Chicago Marathon thinking he might want to run 2:17 and he ended up running 2:10:36.
Then at the US Olympic Trials he found himself in a 3-way battle for 2 Olympic spots. He finished second and will make his Olympic debut at the end of next week.
Show notes:
2:27 Covid Olympic, no opening ceremony, watch parties and more
7:41 Tokyo preparations / Thread on LetsRun: Jake Riley Has Me Worried
16:34 The heat and course in Tokyo
22:12 Goals for Olympics - "There's a big part of me that wants to try and go for a medal"
27:41 No More Next Time
28:00 On sponsorship / wearing On's super shoe, the Cloudboom Echo in Tokyo
31:08 A look back at his high school and collegiate career. Was his high school class better than Webb, Ritz, and Hall?
34:26 Hanson Brooks 27:59 10k
38:09 Being a pro runner sucks when its not going well
41:38 Halfway to retirement/ achilles surgery/ start of the comeback
45:06 Chicago 2019 - From wanting to run 2:17 to running 2:11 "Screw it, go with the pack as long as you can."
47:17 Glory at Olympic Trials and fear of Leonard Korir
54:58 Chris Derrick / Sara Hall are both not Olympians. Chris Derrick comeback?
59:53 Post Olympic plans
61:57 Jake's number one advice for other runners
63:02 Closing ceremonies
On Running sponsored the Road to the Trials on LetsRun.com. We told them we wanted to talk to Jake after the Olympic Track Trials.
Want insider access from Tokyo, daily podcasts and more? Join the LetsRun.com Supporters Club https://www.letsrun.com/subscribe
Play in the $200,021 Running Warehouse Prediction Contest Make Tokyo even more exciting.
From the LRC archives: Unsponsored No More: After Earning Olympic Spot, Marathoner Jake Riley Signs with On
Send us your feedback online: https://pinecast.com/feedback/letsrun/cf789a3f-b22d-4d14-9d44-ee47142faf65