2021 Predictions + Supershoes with Geoff Burns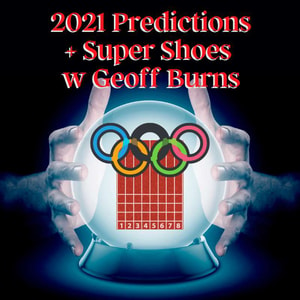 5 months ago
Your running and track and field fix.
Happy New Year. We talk about a thrilling Hakone Ekiden, the pro track season that is shaping up, athletes switching sponsors, getting dropped, and retiring, before looking ahead to 2021 and giving our predictions.
Then we are joined by **Geoff Burns** @ 73:26 to discuss the super shoe revolution. Geoff was the 2016 USATF 100km champion, has a PhD in kinesiology, and is a post-doctoral research fellow at the Michigan Performance Research Lab in the Exercise and Sports Science Initiative.
Want to become a LetsRun.com Insider? Join our Supporters Club today and get exclusive content, the iconic L E T S R U N . C O M shirt (or the 1:59:40 shirt), huge savings on running shoes, a private forum and knowledge you are supporting independent running journalism. Click here to take advantage of New Year's pricing.
Please rate and review us on itunes!
Show notes:
3:22 Hakone Ekiden (shoes worn here)
18:45 Indoor Track is Here /XC Season Shaping Up
26:31 Athletes Switching Sponsors / Getting Dropped (Ryan Hill, Molly Seidel, Ben True) 39:28 Kyle Merber retires
44:39 2021 Predictions: (Houlihan,Brazier, Coburn, Tokyo)
58:56 Jon's bold prediction
63:55 Men's 100m
73:26 Geoff Burns
Want to reach us? Email podcast@letsrun.com or call 1-844-LETSRUN and hit option 7 to leave a private voicemail (or you can reach our phones)
Want a LetsRun.com shirt or a 1:59:40 shirt? shop.letsrun.com
Support LetsRun.com's Track Talk by donating to their Tip Jar: https://tips.pinecast.com/jar/letsrun
Find out more at http://podcast.letsrun.com
Send us your feedback online: https://pinecast.com/feedback/letsrun/d47bb783-6033-476f-a7e4-01270ab8218f