USAs Super Preview, Cade Flatt Just Misses, "Rubbing" in the 800, Paul Chelimo's Workout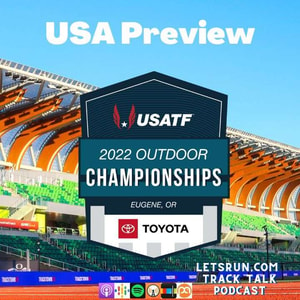 5 months ago
The 2022 USATF champs start this week and this is our Super Preview podcast starting at 43:05. But before that we have some thoughts on Jakob Ingebrigtsen and the dream mile, Cade Flatt coming up just short of Michael Granville's record, how much shoving should be allowed in the 800, and John Kellogg joins us at 72:32 to discuss Paul Chelimo's workout.
Show notes below sponsors:
(Sponsor) The AIRWAAV® ENDURANCE Performance Mouthpiece is here! Airwaav is a relatively new training tool that launched late in 2020 after nearly 16 years of research. Now they have the ENDURANCE model that provides a more snug fit, keeping the mouthpiece in place for endurance athletes who relax their jaw during long-distance workouts or races. The AIRWAAV performance mouthpiece fits along your bottom teeth and directs your tongue down and forward creating the "optimal airway opening" resulting in:
Increased airway opening by up to 25% resulting in an immediate 28.5% respiratory rate reduction during a steady-state run
Increased endurance — by reducing respiratory rate by 20%, resulting in less lactic acid production
Faster recovery times — by reducing cortisol build-up by up to 50%
LetsRun listeners can save 10% with the code "LR10" Dig into the science and put AIRWAAV to the test. Click here to try it out.
Show notes: Start- Jon goes to US Open
9:03 Cade Flatt 1:46.48 misses Michael Granville record by .03 (Video of Granville's run article by Granville)
22:09 Dream Mile - Jakob Ingebrigtsen
30:28 Paris DL 800 controversy
34:35 Donavan Brazier injured
43:05 USAs Previews
44:40 Men's 800 preview- Hoppel and Murphy the favorites?
55:23 Men's 1500 Hocker and Teare and Nuguse?
66:51 Men's steeple: Is Jager done? Hillary Bor the favorite
72:32 Men's 5000- Can Grant Fisher get a US title? What's up with Chelimo? Teare and Hocker?
72:32 Paul Chelimo's workout / John Kellogg coaching segment- Is Paul Chelimo's workout worth 12:40 for 5000?
85:34 Men's Sprint - 100 is loaded with Coleman, Bromell, and Kerley but is 200 with Knighton, Lyles, Bednarek better?
91:49 Women's 800: Can anyone challenge big 3 of Mu, Wilson, and Rogers?
95:52 Women's 1500: Can Sinclaire Johnson really compete with Elle St Pierre?
103:26 Women's steeple - Are Quigley and Frerichs vulnerable?
108:54 Women's 5000- Is Cranny ready? Who doubles back? Weini Kelati ready to go?
113:36 Women's sprints- Sha'Carri vs Aleia in 100, Steiner vs Thomas in 200, Dalilah vs Sydney at 400m hurdles. Can Allyson Felix work her magic?
119:39 Regina Jacobs EPO history lesson
122:10 FINA bans transgender women from competing in women's category (unless they transitioned before age 12)
Train Smarter This Summer: Our summer training has helped high schoolers, sub 4-minute milers, and anyone passionate about running get faster. Check it out today. FREE with Supporters Club membership https://www.letsrun.com/coaching
Join the Supporters Club to get all the LetsRun.com content and a 2nd podcast every week (and this podcast when it immediately drops), plus save 20% on Running Shoes and get a Free Summer Training Plan. https://www.letsrun.com/subscribe?from=public
Contact us: Email podcast@letsrun.com or call 1-844-LETSRUN and hit option 7 for the secret podcast voicemail.
Check out the LetsRun.com store. https://shop.letsrun.com/ We've got the softest running shirts in the business.
Thanks for listening. Please rate us on itunes and spread the word with a friend. There is a reason we're the #1 podcast dedicated to Olympic level running.
Support LetsRun.com's Track Talk by contributing to their tip jar: https://tips.pinecast.com/jar/letsrun
Find out more at http://podcast.letsrun.com