Big Predictions for 2022, Emily Infeld Leaves Bowerman, USA Cross Country Champs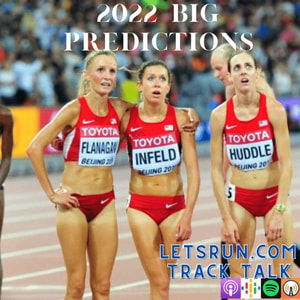 1 year ago
World championship bronze medallist Emily Infeld has left the Bowerman Track Club as the women's team continues to see some turnover. The US Cross Country champs are this weekend with Weini Kelati, Alicia Monson and Molly Seidel headlining.
We discuss those things, welcome in the new year, before turning to our Big Predictions for 2022 - could Galen Rupp win marathon gold, the men's 1500m record really fall, what about a 13:xx women's 5,000m, and can Elaine Thompson-Herah get Flojo's 100m record? Show notes below.
Start 2022 Out Right! Get Electrolytes without the Junk No sugar, no artificial flavors. Go to DrinkLMNT.com/letsrun and for $5 shipping get a free Drink LMNT sample pack of 6 flavors. If you don't like it Wejo (wejo@letsrun.com) will refund your money. Train better in 2022.
Get Your tickets to the Millrose Games January 29th in NYC**. Millrose is loaded this year with Athing Mu taking on Ajee' Wilson, Ryan Crouser vs Joe Kovacks, Trayvon Bromell vs Christian Coleman in his return and an absolutely stacked men's 3000m with Cole Hocker taking on Edwared Cheserek, Drew Hunter, Conner Mantz, Yared Nuguse, Cooper Teare, Joe Klecker** and more. https://www.millrosegames.org/
Any ideas on the podcast art? Email wejo@letsrun.com 2022 Is Here- What do you want to see on LetsRun this year?
Start: Drink LMNT Special Offer
2:30 Happy 2022 / What do you want to see on LetsRun in 2022?
12:53 Emily Infeld Leaves Bowerman / Shakeup at Bowerman
27:18 World Road 5k records
31:11 Will someone use NIL to create an NCAA XC Champion?
40:42 US Cross Country Champs this weekend
47:52 Fantasy track match-ups - Bring back the 4 x mile? Bekele vs Kipchoge in Boston?
65:28 Ingebrigtsen vs Cheruiyot - who wins in a slow race?
69:26 Sifan Hassan (or anyone else) sub 3:50, sub 14, sub 29 in 2002?
71:41 Rojo and Jon's Big Predictions for 2022
Contact us: Email podcast@letsrun.com or call 1-844-LETSRUN and hit option 7 for the secret podcast voicemail.
Join our Supporters Club and take your running fandom to the highest level. Get all the LetsRun.com content, a second podcast every week, savings on running shoes, and a lot more. https://www.letsrun.com/subscribe
Check out the LetsRun.com store. https://shop.letsrun.com/ We've got the softest running shirts in the business.
Thanks for listening. Please rate us on itunes and spread the word with a friend. There is a reason we're the #1 podcast dedicated to Olympic level running.
Find out more at http://podcast.letsrun.com
Send us your feedback online: https://pinecast.com/feedback/letsrun/db9dc3fc-3a9d-4b74-90b1-dbffde6556c3