Chris Solinsky Reflects On His Career and His 26:59 and Looks Ahead To The Future at Florida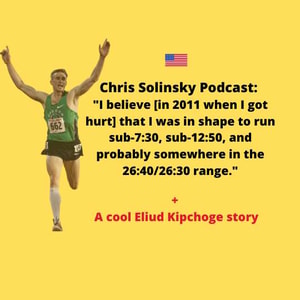 5 months ago
The best running podcast in the world
To celebrate the 10th anniversary of Chris Solinsky's 26:59 10,000-meter run, this week we dropped an extra podcast with Solinsky as the guest. Our regular podcast will come out later. By now, his 26:59 has been discussed and broken down in amazing detail -- heck, our own Jonathan Gault wrote 6,000+ words about it -- so we only spent the first 10 minutes or so of our chat with Chris talking about that.
After the 26:59 talk, we spent a lot of time talking about the rest of Solinsky's magical 2010 season, during which he ran 12:56 or faster for 5,000 three times in the span of 77 days -- a feat that has only been achieved six times by any American, ever. We also got Solinsky to talk about his vision for the University of Florida as he's currently the men's and women's distance coach at Florida. Chris also told a really cool Eliud Kipchoge story.
This week's podcast is brought to you by the TheFeed.com. TheFeed.com has everything you need to perform at your best and try and stay healthy. They have a new product - BLDG Active's Anti-microbial Face and Hand Spray which is a medical-grade solution you can take with you to spray on your hands and face. Go to TheFeed.com/Letsrun for more info and use code LETSRUN to save 15% off your entire order.
Show notes: 0:00 We talk about the 26:59 for nearly the first ten minutes 09:15 We talk about the rest of Solinsky's 2010 campaign, during which he broke 13:00 three times 23:10 Solinsky talks about the first time he broke 13:00 and tells a cool story about how Eliud Kipchoge -- whom he beat badly in the race -- was the first person to congratulate him. 26:10 Solinsky talks about dreaming big and what Jerry Schumacher has taught him about coaching in the NCAA. 33:30 Solinsky talks about what drew him to the University of Florida and his vision for the distance program 38:40 Solinsky responds to those who think his huge improvements in times in 2010 mean he was a doper 43:30 We asked Chris about how many of the greats in US distance running history -- himself, Salazar, Hall, Webb -- didn't have really long careers. Chris talks about this and reveals what he thinks his peak fitness was.
Got audio feedback for the show? Fake Galen Rupp where are you? Call 844-LetsRun (844-538-7786) and hit option 7.
Support LetsRun.com's Track Talk by donating to their Tip Jar: https://tips.pinecast.com/jar/letsrun
Find out more at http://podcast.letsrun.com
Send us your feedback online: https://pinecast.com/feedback/letsrun/dbf0adf1-dd09-467e-80f5-e402c3aea434