Molly Huddle, Galen Rupp & Soft American Records, 100m Talk$ + Guest Mike Smith on 'America's Race'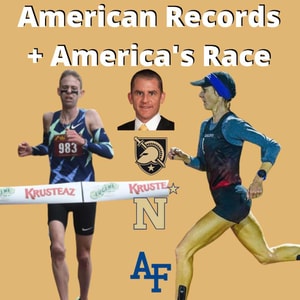 4 months ago
Get your Olympic running fix from LetsRun.com
Want to fuel like Sara Hall and know why she did so well in London? Click here to get the secrets from UCAN and save 20% with code LETSRUN.
Whose American record was softer: Galen Rupp's or Molly Huddle's? Taoufik Makhloufhi in trouble for drugs because a fellow athlete searched his bag, Michael Norman 100m man, what happened to Xavier Carter, how much $ did Christian Coleman lose, plus a little NCAA XC conference action before we talk to Army Coach MIke Smith at 51:04 about America's Race - the XC battle between Army, Navy, and Air Force next week on the historic West Point Plain.
Support independent journalism and save big on shoes by joining the LRC Supporters Club. https://www.letsrun.com/subscribe Supporters Club Members get bonus content, a private podcast feed, huge savings on running shoes and more. Part II of our talk with Matt Hart now available to SC members.
Want to celebrate the greatest winning streak in marathoning? Get your 1:59:40 GOAT Marathon shirt today @ shop.letsrun.com
Show notes:
Start: 2020 Election
4:12 Masks required in Massachusetts outdoors
7:29 Molly Huddle American 10 Mile, 15k, and 1 Hour Records
10:13 Galen Rupp American 10 Mile record
13:29 Alberto Salazar still involved with Galen Rupp?
16:18 NCAA XC Conference Talk
24:35 Super Shoes at Japanese Ekiden
27:15 Taoufik Makhloufhi in trouble because Jimmy Gressier searched his bag. -Thread -Photo
31:44 Salaries, race, and track in Uganda
36:31 Michael Norman 100m Man? / What the hell happened to Xavier Carter? -link
39:58 Christian Coleman lost how much $?
43:08 Conseslus Kipruto in trouble with law in Kenya
45:05 Indoor track this year?
51:04 Guest Mike Smith - Army Track and Field Coach on the America's Race next week vs Air Force and Navy presented by USAA
Support LetsRun.com's Track Talk by donating to their Tip Jar: https://tips.pinecast.com/jar/letsrun
Find out more at http://podcast.letsrun.com
Send us your feedback online: https://pinecast.com/feedback/letsrun/dc12f9b6-8c14-4f51-9143-94dfe63b44eb