Sha'Carri's Big Win in Doha, Tuohy, Andrews, Burns @ Track Fest, Lyles @ Atlanta City Games, Guest Jesse Williams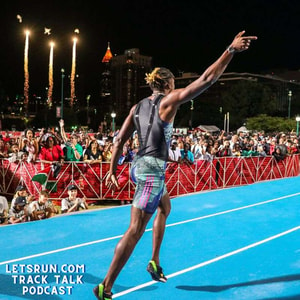 6 months ago
We breakdown all the weekend action starting with Doha and Sha'Carri Richardson's big win, Lamecha Girma's fine form, and Michael Norman bombing. Then we discuss the Sound Running Track Fest and Katelyn Tuohy "struggling" to the #2 NCAA time ever, Josette Andrews big win, Connor Burns breaking Galen Rupp's 5000m high school record, and a few other breakout stars.
Rest in Peace Tori Bowie. The track and field world lost one of its stars way too early. Life is precious and can get better. If you are struggling, there is help out there, call 988 in the US or visit https://988lifeline.org/
Then it's the adidas Atlanta City Games, which had amazing visuals and a big win for Noah Lyles over Erriyon Knighton but only 6000 viewers live on Youtube.
Then at 105:48 Sound Running founder Jesse Williams joins us to give us a debrief of his meet, talk about how he has been able to get the best distance fields in the US, talk about the difficulty of getting fans to a meet in the US, and discuss whether Mt. Sac should host the Olympic Trials.
Links: Sound Running Website
Want a super soft Burrito Track Club shirt? Now is your chance. Only $13 with code BURRITO @ https://shop.letsrun.com/
Want a 2nd podcast every week? And savings on running shoes? Join our Supporters Club today and get all the LetsRun.com content, a second podcast every week, savings on running shoes, and a lot more. Cancel anytime. https://www.letsrun.com/subscribe
Show notes: 0:00 Burrito Track Club shirts $13. Use code BURRITO @ shop.letsrun.com
06:27 DOHA - Sha'Carri gets the big win
16:32 Big Winners- Lamecha Girma, Diribe Welteji, Tim Cheruiyot?
24:55 American steepler update - Coburn falls and bombs, Constein injured
27:03 BIggest loser in Doha - Michael Norman
28:38 Track Fest - Katelyn Tuohy 15:03
42:09 Josette Andrews impresses - a new star?
45:59 Joselyn Brea breaks 30 year-old S. American 5000m record
48:25 Yared Nuguse with big 800 PB and win
57:23 Ollie Hoare MIA
01:00:37 Connor Burns breaks Galen Rupp's high school 5000m record
01:03:56 Cooper Teare wins 5000
01:08:11 Centro in "B" race what does it mean?
01:13:30 Krissy Gear impressed in steeple
01:16:24 Kenneth Rooks men's steeple win
01:19:15 Young brothers skipped meet for high school prom
01:24:39 RIP Tori Bowie
01:30:56 adidas Atlanta City Games - amazing backdrops, great match-ups and only 6000 live viewers
01:33:00 Noah Lyles convincing win over Erriyon Knighton
01:45:48 Jesse Williams - Sound Running Founder and meet director of Track Fest
01:46:48 Jesse's debrief on the meet - fast times, more people, bigger stadium= poor visuals
02:00:14 PPV stream
02:03:21 adidas meet only had 6000 viewers
02:03:44 Prize purse
02:10:28 Drug testing costs $10,000 and praise for USATF
02:24:28 Should Mt. Sac host the Olympic trials?
Contact us: Email podcast@letsrun.com or call/text 1-844-LETSRUN podcast voicemail/text line.
Check out the LetsRun.com store. https://shop.letsrun.com/ We've got the softest running shirts in the business. Supporters Club members save 30%.
Thanks for listening. Please rate us on itunes and spread the word with a friend. There is a reason we're the #1 podcast dedicated to Olympic level running.
Find out more at http://podcast.letsrun.com
Send us your feedback online: https://pinecast.com/feedback/letsrun/dc1b6069-4f30-4f81-80d3-1390d807ce60
This podcast is powered by Pinecast.