Emma Bates - America's Newest Marathon Star (Guest)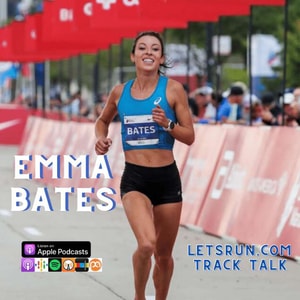 7 months ago
We catch up with Emma Bates after she ran 2:24:20 to finish second at the Chicago Marathon and become the ninth-fastest American woman of all time. Bates ran through her race strategy and why most of her Team Boss teammates flew out to Chicago to cheer her on in-person. She also discusses her painful divorce, which caused her to relocate from Idaho to Boulder and begin training under Joe Bosshard, and how she was able to navigate that period of her life and emerge stronger. Bates also wants to run the World Championship marathon next year in Eugene...but nine months out from race day, she's still waiting on USATF to let her know how it is picking the team.
Show notes:
DRINK LMNT Free Trial Offer: Get electrolytes without the junk here for $5 shipping. Wejo will refund your $5 if you don't like it
14:46 When did she know she'd be a marathoner? Running 120 mile weeks at altitude
18:21 Her Team Boss teammates supporting her in Chicago
23:09 Marathon Project struggles / going through a divorce
27:41 Joining Team Boss
33:29 2022 Plans
Get Electrolytes without the junk: DrinkLMNT special offer: Get a free sample pack of DrinkLMNT with 6 different flavors for only $5 shipping. Wejo will personally refund your $5 if you don't like this stuff. DrinkLMNT is electrolytes without the junk. No sugar, no artificial flavors, yet it tastes great. DrinkLMNT.com/letsrun
Bates' instagram recap of the Chicago Marathon is here: https://www.instagram.com/p/CU_D7M-rAw4/
Recap of her Marathon Project run here: https://www.instagram.com/p/CKmd8SGH46-/
Contact us: Email podcast@letsrun.com or call 1-844-LETSRUN and hit option 7 for the secret podcast voicemail.
Join our Supporters Club and taken your running fandom to the highest level. Get all the LetsRun.com content, a second podcast every week, savings on running shoes, and a lot more. https://www.letsrun.com/subscribe
Check out the LetsRun.com store. https://shop.letsrun.com/ We've got the softest running shirts in the business.
Thanks for listening. Please rate us on itunes and spread the word with a friend. There is a reason we're the #1 podcast dedicated to Olympic level running.
Send us your feedback online: https://pinecast.com/feedback/letsrun/e0c1e658-dc47-444b-aead-1fdac0b8c0f8