What's a Major? Rules for Runners, Newbury Park, Backyard Ultra, and Guest Jordan Tropf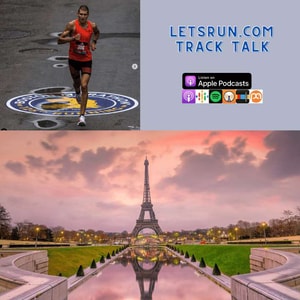 8 months ago
Tropf ran 3 marathons in 3 days averaging 2:30:30
There were some really fast and deep times at the Amsterdam and Rotterdam marathons, we do a little Boston Marathon trivia, discuss what really is a World Marathon Major, have an email of the week, some rules for runners, a little Backyard ultra discussion, and of course Shalane Flanagan World Marathon Major talk.
We start with a voicemail from the Secret Service and end with an interview @ 56:12 with Jordan Tropf, the Baltimore orthopedic resident, who ran the Baltimore (2:27:23), Chicago (2:31:54), and Boston (2:32:13) marathons in 3 days, averaging an incredible 2:30:30.
Get Electrolytes without the junk: DrinkLMNT special offer: Get a free sample pack of DrinkLMNT with 6 different flavors for only $5 shipping. Wejo will personally refund your $5 if you don't like this stuff. DrinkLMNT is electrolytes without the junk. No sugar, no artificial flavors, yet it tastes great. DrinkLMNT.com/letsrun
Contact us: Email podcast@letsrun.com or call 1-844-LETSRUN and hit option 7 for the secret podcast voicemail.
Join our Supporters Club and taken your running fandom to the highest level. Get all the LetsRun.com content, a second podcast every week, savings on running shoes, and a lot more. Podcast pays for itself if you take advantage of the shoe discount. http://letsrun.com/subscribe?from=public
Check out the LetsRun.com store. https://shop.letsrun.com/ We've got the softest running shirts in the business.
Thanks for listening. Please rate us on itunes and spread the word with a friend. There is a reason we're the #1 podcast dedicated to Olympic level running.
Send us your feedback online: https://pinecast.com/feedback/letsrun/eacb63cb-ce89-4477-b82e-9b2804693f1e