Sprint Drama & NCAAs: 400m Hurdles & Sub 4 High School Madness, Ethiopian 10k Champs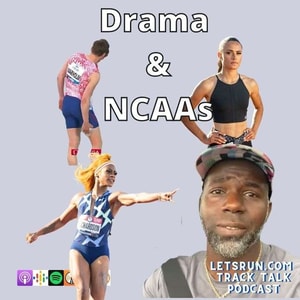 1 year ago
What a week. 3 high schoolers (Gary Martin, Connor Burns, Rheinhardt Harrison) went sub-4 in the mile in the same week with 2 in the same race! We had 2 men go sub 8 in the same steeple for the first time since 2012, we had some 400m hurdle madness from Sydney McLaughlin and Karsten Warholm for every different reasons, a Scot beat all the Ethiopians at the 10,000m champs, and right before this podcast recorded major twitter drama broke out between Sha'Carri Richardson and Rae Edwards.
Plus the NCAA Track and Field Championships are this week.
Train Smarter This Summer: Our summer training has helped high schoolers, sub 4-minute milers, and anyone passionate about running get faster. Check it out today. FREE with Supporters Club membership https://www.letsrun.com/coaching
Join the Supporters Club to get all the LetsRun.com content and a 2nd podcast every week (and this podcast when it immediately drops), plus save 20% on Running Shoes and get a Free Summer Training Plan. https://www.letsrun.com/subscribe?from=public
Start - 3 high school sub 4s in a week
9:29 400m hurdles craziness - Sydney McLaughlin's doesn't count, Karsten Warholm has an ice bag on his hamstring before race is over
25:04 Men's steeple in Rabat was amazing. We get 2 sub 8's in the 1st race since 2012 / Jager not running Rome / The "British" model not followed in Rabat
36:07 Ethiopian 10,000m Women's Trials - Eilish McColgan wins, Y2 and Almaz Ayana don't make teams
44:04 Jon shows his hatred for Scottish and Welsh people and Americans
46:46 Men's 10,000m talk
56:08 NCAAs start Wednesday- Mini Preview- Nico Young and Katelyn Tuohy going for NCAA titles #1
66:50 Raes Take and Sha'Carri Richardson go to war- drug accusations and more
(Sponsor) The AIRWAAV® ENDURANCE Performance Mouthpiece is here! Airwaav is a relatively new training tool that launched late in 2020 after nearly 16 years of research. Now they have the ENDURANCE model that provides a more snug fit, keeping the mouthpiece in place for endurance athletes who relax their jaw during long-distance workouts or races. The AIRWAAV performance mouthpiece fits along your bottom teeth and directs your tongue down and forward creating the "optimal airway opening" resulting in:
Increased airway opening by up to 25% resulting in an immediate 28.5% respiratory rate reduction during a steady-state run
Increased endurance — by reducing respiratory rate by 20%, resulting in less lactic acid production
Faster recovery times — by reducing cortisol build-up by up to 50%
LetsRun listeners can save 10% with the code "LR10" Dig into the science and put AIRWAAV to the test. Click here to try it out.
Contact us: Email podcast@letsrun.com or call 1-844-LETSRUN
Join our Supporters Club and take your running fandom to the highest level. Get all the LetsRun.com content, a second podcast every week, savings on running shoes, and a lot more. https://www.letsrun.com/subscribe
Check out the LetsRun.com store. https://shop.letsrun.com/ We've got the softest running shirts in the business.
Thanks for listening. Please rate us on itunes and spread the word with a friend. There is a reason we're the #1 podcast dedicated to Olympic level running.
Support LetsRun.com's Track Talk by contributing to their tip jar: https://tips.pinecast.com/jar/letsrun