BONUS: Dr. Madeline Manning Mims - The Greatest US 800m Runner Ever?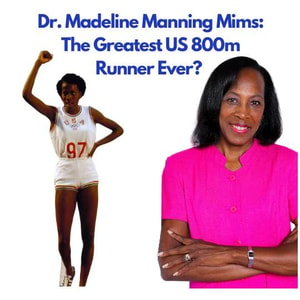 3 months ago
We pulled our talk with 1968 Olympic champ, 4 time Olympic Trials Champ, Madeline Manning into its own podcast.
We made our talk with Madeline Manning Mims at the end of this week's regular podcast its own podcast.
Manning Mims was not only the 1968 Olympic 800m Champ and first US women to ever go sub 2:00, but she ran 1:57.9, held the US record for 15 years, and won the Olympic Trials 800m in 1968, 1972, 1976, and 1980. She started competing when women did not compete in any Olympic events over 1,500m and the stereotype was black women could not run long distances. She proved everyone wrong. She is a bridge from Jesse Owens to Wilma Rudolph to Ajee' Wilson. She ran her first 800 by accident when they switched an indoor 400 to an 800 and the rest is history. You can follow her on facebook here (and see her giving an Easter concert from her garage for her neighbors during the COVID-19 shutdown). A nice bio on her is here.
Show notes below sponsor notes.
The podcast is sponsored by TheFeed.com. They've got everything you need to perform at your best and try and stay healthy. In addition they have a new product - BLDG Active's Anti-microbial Face and Hand Spray which is a medical-grade solution you can take with you to spray on your hands and face. Go to TheFeed.com/Letsrun for more info and use code LETSRUN to save 15% off your entire order.
Show notes: 7:00 Track career started with physical fitness tests
12:11 Accidental 1st 800 was an indoor world record
18:14 College and not knowing "Skeeter" aka Wilma Rudolph
23:42 1968 Olympic gold + reception back home + not being a millionaire
31:17 Other Olympics
39:40 Getting beat by dopers and being told to dope
44:34 Running 1:57.9, getting faster with age
49:41 Could she beat Ajee Wilson?
51:24 Intersex women in 800 today, Caster Semenya
57:52 1980 Olympic boycott/Mentoring athletes today and what she is telling them about Tokyo postponement
Support LetsRun.com's Track Talk by donating to their Tip Jar: https://tips.pinecast.com/jar/letsrun
What do you think of us pulling longer interviews out like this for their own podcasts? https://pinecast.com/feedback/letsrun/f5748c6c-86b0-4780-be6f-f9dedb718f1a