Geoffery Kamworor Gets His World Record, Japanese Olympic Marathon Trials, Kipchoge v Kamworor Fantasy Race, Training Tip and Term of Week: Glowing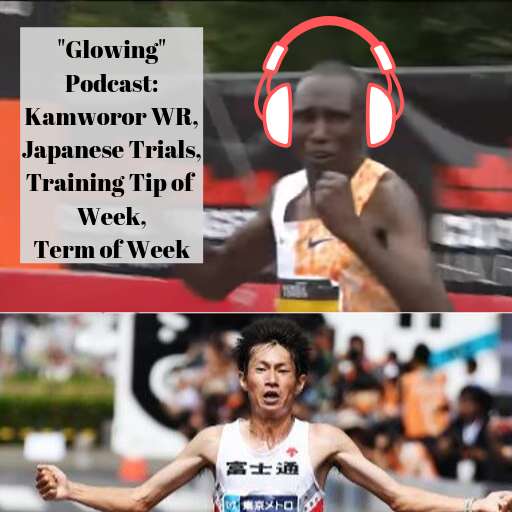 5 months ago
Best track and field runnning podcast
What a week.
Legend Geoffrey Kamworor got his coveted world record in the half marathon and nearly went 57:XX (58:01), the first Japanese Marathon Trials (Grand Champs) are in the books and more than lived up to the hype, and the World championships are less than 10 days away.
Books talked about in podcast:
Want to run a faster 5k? Fast 5k by LRC visitor and masters star Pete Magill
When by Daniel Pink
Talking to Strangers by Malcolm Gladwell
(LRC gets a commission if you use the links above)
Show notes:
Start: Music and mood
2:40 Japanese Grand Championships in the books - Suguro Osako, Yuta Shitara and Shogo Nakamura
17:45 Geoffrey Kamworor gets his world record
20:46 Lopez Lomong medal changes take 2
25:07 Who wins in a half marathon? Kamworor or Eliud Kipchoge
31:49 Jordan Hasay runs so-so in Philly half marathon
34:55 Elijah Manangoi out of Worlds, Matthew Centrowitz medal chances
40:06 Running Term of the Week: Glowing
45:12 Question of Week: Should Diamond League winners get a bye into final at Worlds?
51:45 Training Tip of the Week via Woody Kincaid
57:10 Yale > Harvard
61:44 Dealer's Choice: Pull the Plug on Modern Society or Rojo Rant on Terrible Journalism- (Justify and Tim Tebow)
67:02 Tirunesh Dibaba out of Worlds
68:56 What races most excited about at Worlds? (400m hurdles- Abderrahman Samba vs Rai Benjamin vs Karsten Warholm)
Are you using CBD for recovery? If you want to try certified CBD products go to https://floydsofleadville.com and use code LETSRUN to save 15%.
Need new running shoes or have a great pair you want to review? Go to http://www.letsrun.com/shoes/ to find a better pair of shoes or save on your favorite shoes.
To be on the podcast call 844-LETSRUN (538-7786).
Leave us feedback here https://www.letsrun.com/podcast/