Getting Ready for 2022 World Indoors + Katelyn Tuohy Rocks NCAA Indoors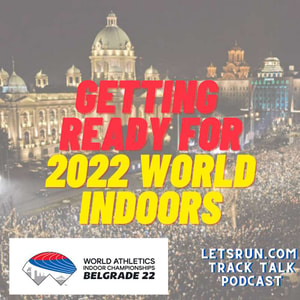 1 year ago
Show notes:
We mainly get you ready for this weekend's World Indoor Champs but do briefly talk about 2022 NCAA indoors, the 2022 Nagoya Marathon and Newbury Park's exploits in the 4 x mile.
Time stamps: 4:00- Jon and Robert reveal they are a married couple and have some exciting test results to announce 7:45: Brief 2022 NCAA Indoor talk -  Tuohy, Nur and Abdalla. 15:20: 2022 World Indoors Is going to be awesome: Marcel Jacobs vs Coleman 23:00: We preview the mid-d and distance action - starting with the 800s, then going to the 1500s, then the 3000 38:00 - Which Americans are most likely and least likely to medal? 50:00 - What non-distance Jonathan is most psyched about 56:00 Did you know Serbia is on the US Do Nott Travel List? Will any other American journalists be there? 58:00 Nagoya Marathon paid out its $250,000 prize 60:00 Newbury Park rocked the 4 x mile last week and will be running the Penn Relays - is that a good or bad thing? 68:00+ Rojo tells the SC members about his conversation with a 25-year old on the way to Birmingham and how she asked for his number. Rojo's wife was please they chatted but is now worried he'll be canceled.
Contact us: Email podcast@letsrun.com or call 1-844-LETSRUN and hit option 7 for the secret podcast voicemail.
Join our Supporters Club and take your running fandom to the highest level. Get all the LetsRun.com content, a second podcast every week, savings on running shoes, and a lot more. https://www.letsrun.com/subscribe?from=public
Check out the LetsRun.com store. https://shop.letsrun.com/ We've got the softest running shirts in the business.
Thanks for listening. Please rate us on itunes and spread the word with a friend. There is a reason we're the #1 podcast dedicated to Olympic level running.
Support LetsRun.com's Track Talk by contributing to their tip jar: https://tips.pinecast.com/jar/letsrun
Find out more at http://podcast.letsrun.com
Send us your feedback online: https://pinecast.com/feedback/letsrun/05bc7c2c-cdfe-48a3-88e9-2b34fc663473
This podcast is powered by Pinecast.