New York: Tola CR, Obiri Double +Bowerman Departures, Kiptum did what?!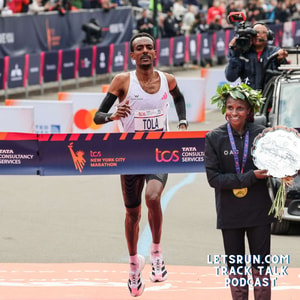 1 month ago
A course record fell at the 2023 TCS New York City Marathon but it wasn't the one everyone expected as Tamirat Tola became the first man under 2:05 in NY running 2:04:58. Hellen Obiri showed she's a marathon star as she outkicked Letesenbet Gidey to complete the Boston-NY double. We break it all down.
There were more departures from the Bowerman Track Club, we assess its situation, and Kelvin Kiptum is going to run the Rotterdam Marathon. Did he turn down a mega payday from London?
Want honest shoe reviews? BetterRunningShoes.com the LetsRun.com shoe review site is here. Check it out: BetterRunningShoes.com
Want electrolytes without the junk? Try DrinkLMNT today. Money-back guarantee. https://drinklmnt.com/letsrun
Show notes:0:00 Find a better running shoe: https://www.letsrun.com/shoes
0:45 Try Drink LMNT Electrolytes without the junk https://drinklmnt.com/letsrun
01:34 Start
02:59 Women's race in NY defies expectations
03:10 Rojo's guarantee falls apart
11:26 How good was final mile?
18:56 Should Gidey have changed her tactics?
22:28 Gidey's tics / Wejo's confession
28:21 Only 14 women in elite field
34:44 The Americans Kellyn Taylor and Molly Huddle
37:28 Men's race: Tamirat Tola 2:05:48 Course Record
42:59 What happened to the wall?
50:32 Which is tougher NY or Boston?
53:28 Edward Cheserek's debut
54:44 Cam Levins DNF, Cheserek citizenship quest
01:14:33 Bus nearly runs over US 5k runners *Video here
01:17:00 Has Bowerman lost its luster? - Cranny leaving and Kincaid speaks
01:32:06 Olympic Trials start time
01:33:59 Kelvin Kiptum 7 figure appearance fee?
Contact us: Email podcast@letsrun.com or call/text 1-844-LETSRUN podcast voicemail/text line.
Want a 2nd podcast every week? And savings on running shoes? Join our Supporters Club today and get all the LetsRun.com content, a second podcast every week, savings on running shoes, and a lot more. Cancel at anytime. https://www.letsrun.com/subscribe
Check out the LetsRun.com store. https://shop.letsrun.com/ We've got the softest running shirts in the business.
Thanks for listening. Please rate us on itunes and spread the word with a friend. There is a reason we're the #1 podcast dedicated to Olympic level running.