Chelimo is Baaack, Coleman > Lyles, Mega Match-ups in Rabat (Jakob vs Yared, Kerley vs Jacobs)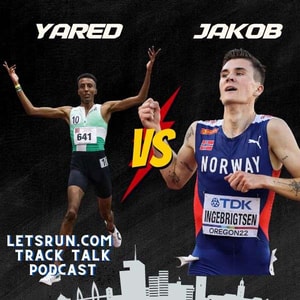 6 months ago
Christian Coleman took down Noah Lyles at 100m in Bermuda and Paul Chelimo impressed at the night of the 10,000s even if he missed the World Championship standard.
The action really heats up this weekend in Rabat with Fred Kerley vs Marcell Jacobs and Yared Nuguse vs Jakob Ingebrigtsen. Meanwhile stateside, Sha'Carri Richardson will be in LA as Cole Hocker and Cooper Teare will take on Reynold and Tim Cheruiyot at 1500.
Full show notes below.
Want to try a running video game?! XC Cross Country Racing is here. Try today. Apple iPhone here Android here
Drink LMNT - Electrolytes without the Junk - Grapefruit Salt is here for the summer. Money Back Guarantee Try today. https://letsrun.com/drink
Want a Rabat Preview and Recap podcast? Join our Supporters Club today and get all the LetsRun.com content, a second podcast every week, savings on running shoes, and a lot more. Cancel at anytime. https://www.letsrun.com/subscribe
Show notes:
00:00 Xc Cross Country Racing Apple iPhone here Android here
:42 Drink LMNT
04:27 Paul Chelimo is baaack 27:12 (and so is Jon from "suspension")
11:11 Who does 10,000/5000 double at USAs?
15:12 Women's Results Mizan Alem Adane 29:59, Weini Kelati 2nd
20:21 No more time qualifiers in rounds at Worlds in events 1500+
31:24 Christian Coleman takes down Noah Lyles 9.78 to 9.80 in Bermuda
37:24 Marcell Jacobs vs Fred Kerley @ 100m Sunday in Rabat
45:56 Jakob Ingebrigtsen vs Yared Nuguse @ 1500m in Rabat
52:40 Intern Alex
54:02 Nuguse vs Jakob Prediction
59:17 1500m in LA - Cole Hocker vs Cooper Teare vs Reynold and Timothy Cheruiyot
01:07:39 Sha'Carri in 100m in LA
01:11:23 Sydney skipping LA but running Paris 10 days later
End Drink LMNT, Join our Supporters Club for a Rabat recap podcast
Contact us: Email podcast@letsrun.com or call/text 1-844-LETSRUN podcast voicemail/text line.
Find out more at http://podcast.letsrun.com
Send us your feedback online: https://pinecast.com/feedback/letsrun/07ae202d-93a0-4476-806a-6fdb742628e9
This podcast is powered by Pinecast.